Il fait beau, il fait chau! L'occasion de jouer à la pétanque en plein air ! Mais pourquoi se priver d'une double dose?
Aujourd'hui, le dimanche 31 juillet, et jusqu'à demain, le 1er août, Google présente un Doodle qui se pare des célèbres boules de métal en intégrant un petit jeu de pétanque.
« La pétanque a toujours été un sport français emblématique. Jouer à la pétanque, c'est pour moi revenir à l'authenticité, la convivialité et à tous les âges. Je souhaitais partager cette expérience », commente la dessinatrice de doodles Hélène Leroux.
Ce jeu est effectivement typique du sud de la France, mais son aura va au-delà. Son origine est d'ailleurs lointaine : il faut remonter aux lancers de pierres plates à l'Antiquité, puis aux lancers de boules de pierre chez les Grecs, avant que les Romains n'intègrent la boule cible (le cochonnet) et qu'ils importent le jeu en France.
Comment jouer à la pétanque?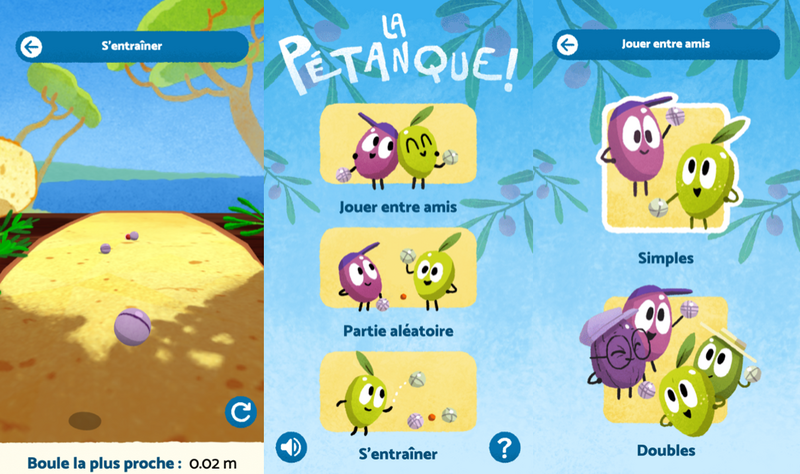 Trop chaud pour une partie de pétanque dehors? Vos amis sont en vacances et vous êtes coincé à la maison? Pas de soucis, les derniers Doodle Bowls! sont disponibles et vous permettront de vous adonner - virtuellement - à cette activité en solo, contre des joueurs tirés au sort ou même entre amis - via un lien d'invitation , que ce soit en tête-à-tête, ou avec votre acolyte ceinture noire de pétanque en doublette.
The modern game of Pétanque originated in 1907 in Provence, France when a local café owner adjusted the rules to accommodate a player whose rheumatism prevented him from running. With a reduced length of the field and a stationary toss, Pétanque spread quickly across the country.
The rules of the game are fairly simple: throw, toss, or roll your team's metal boules closer to the target boule than the other team. Over a series of rounds, the first player or team to score thirteen points wins!
The goal might sound simple, but players can use a number of tactics to gain an advantage over their opponent. "Shooting" is a popular strategy, often used at competitive levels, where players attempt to knock away an opponent's boule from the target.
Click the Doodle and get the boules rolling! Play
a random match or challenge your friends!
It's Summer time! Don't forget to play la Pétangue in your your garden or in a park of the city you live. Remember, the Doodle game will be displayed until tomorrow, August 1st.
Or invite your online friends to play! It's funny! hat's wonderful! Tomorrow they will know the winners! Pay attention!
16 illustrations of individual personified black and white, purple and green olives. Each olive wears a different expression and some hold Pétanque boules. The words "Les Olives" caption the drawings.
The teams are made up of two varieties of olives, and the pitch is good old-fashioned toast.
Wherever you are, on holiday summer, I hope that you're having a wonderful and safe time.
I'll be back posting the normal roundup next week.
G-Souto

31.07.2022
Copyright © 2022G-Souto'sBlog, gsouto-digitalteacher.blog