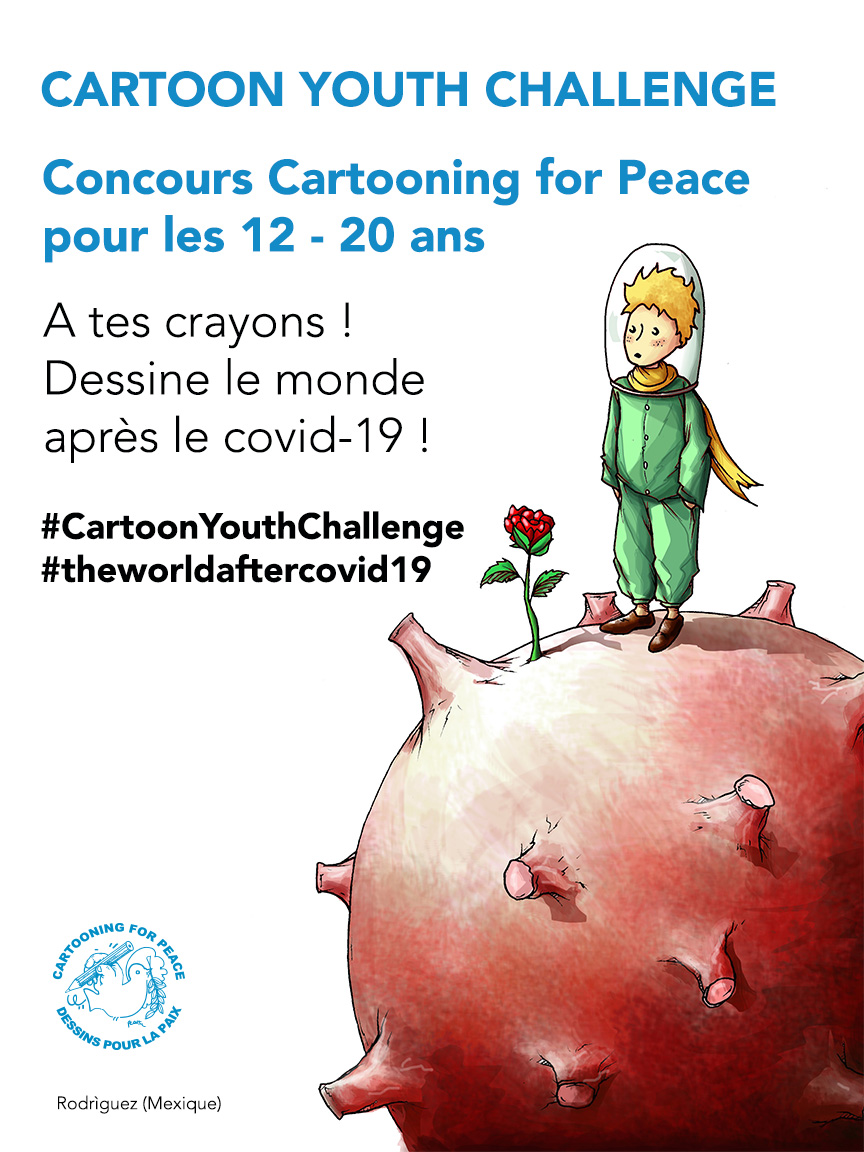 #CartoonYouthChallenge is a press cartoons campaign launched by Cartooning for Peace inviting young people to produce cartoons on their vision of what the world will be like after the coronavirus sanitary crisis.
#CartoonYouthChallenge is also an opportunity to allow the cartoons of young cartoonists to reach an international audience. At the end of this campaign, Cartooning for Peace will publish the 10 best cartoons on its website.
What is a press cartoon?
A press cartoon is a drawing that conveys a strong message and a point of view. It often tries to shock the readers, sometimes with humour, in order to raise their awareness on current events.
When?
From the 1st of April to the 15th of May, to entertain during the lockdown, Cartooning for Peace invites young people to participate in the new #CartoonYouthChallenge, in partnership with Le Monde des Ados.
An innovative and creative way to imagine the world after COVID-19!
Who can participate?
#CartoonYouthChallenge applies to young people from 12 to 20 years old, from all over the world.
The cartoons can be in any language.
How to participate?
It's easy, you just need to draw a press cartoon and post it on social network (Facebook, Twitter, Instagram) with the following hashtags:
#CartoonYouthChallenge and #theworldaftercovid19.
You can add your age, nationality or place of residence to the post for more visibility. Above all, do not forget to sign your work!

Last chance: Don't forget! 15 May 2022
And now the posts of March 2022:
If teachers want to include the theme War in Europe - Ukraine under siege - they have some interesting resources:

Poetry by Lesya Ukrainka.


Hoping that teachers and students read me about #CartoonYouthChallenge to participate in this creative competition to talk and shares ideas about Press Freedom with humour and sympathy.
Don't forget to celebrate today, May 3, World Press Freedom Day. It's also a day of remembrance for those journalists who lost their lives in the pursuit of a story.
Wherever you are I hope that you're having a safe time at school.
I'll be back posting the normal roundup next week.
G-Souto

3.05.2022
Copyright © 2022G-Souto'sBlog, gsouto-digitalteacher.blog