On 19 August 2003, a bomb attack on the Canal Hotel in Baghdad, Iraq, killed 22 humanitarian aid workers, including the UN Special Representative of the Secretary-General for Iraq, Sergio Vieira de Mello. Five years later, the General Assembly designating 19 August as World Humanitarian Day (WHD)

.
This year we shine a light on the hundreds of thousands of volunteers, professionals and crisis-affected people who deliver urgent health care, shelter, food, protection, water and much more. Because, as the saying goes: #ItTakesAVillage to support people in crisis.
Whenever and wherever people are in crisis, there are others who help them.
From the affected people themselves - always first to respond when disaster strikes – to the global community that supports them as they recover, they come together to ease suffering and bring hope.
Because, as the saying goes: It takes a village to support people in crisis.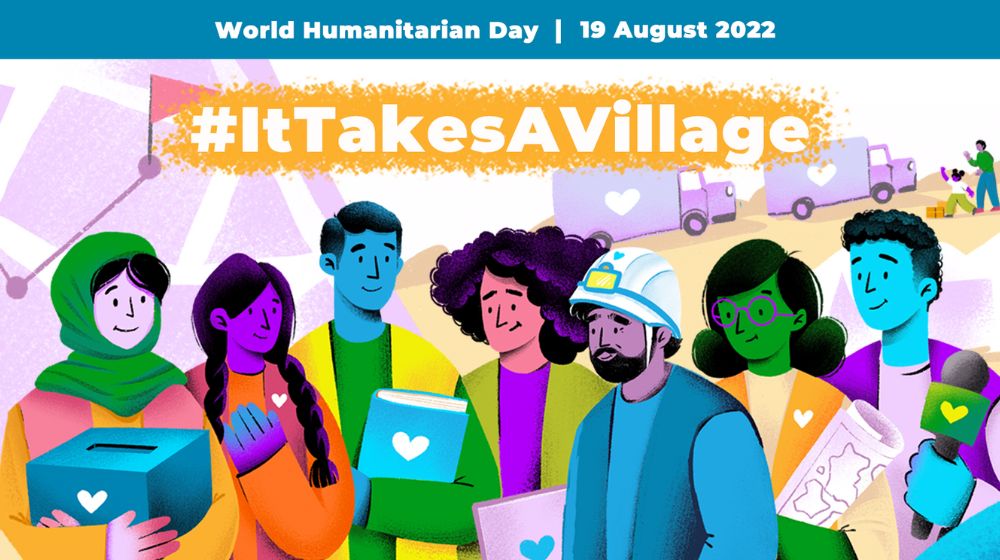 World Humanitarian Day 2022
Education:
"A lifeline for children in crises."
When crises hit, children lose loved ones, homes, and access to essentials such as water, health care and food. But they also lose safety, routine and access to education. In these situations, teachers are vital.
They help children to learn so they don't risk losing their future, and they ensure children have safe environments, protecting them from physical dangers including abuse, exploitation and recruitment into armed groups.
Teachers also offer psychosocial support to children – especially girls, children with disabilities, internally displaced children, refugees and migrants – giving them stability and structure to help them cope with the trauma of living through a humanitarian crisis.
Did you know?
In 2021, almost 110 million children in emergency settings accessed formal or non-formal education, including early learning.
In 2021, over 896,900 refugee children and children from host communities were supported with connected or home-based learning in 80 countries,
Teachers:
It's urgent to include Climate Action into school and college curricula to reinforce the alert about all the catastrophes - violent forest fires, or floods -
to earth and to their and our lives.
Make question to
young, listen their voices and ideas,
dis
cuss
what it's going on around the world and why so much
catastrophes are hap
pening.
Activities:
The best way to join the campaign is to share (and create your own) #ItTakesAVillage content.
Resources:
Everything you need – from graphics to templates to suggested messaging – is available here.
G-Souto
19.06.2022
Copyright © 2022G-Souto'sBlog, gsouto-digitalteacher.blogs
pot.com®