Harry Potter: Hogwarts Mystery
Harry Potter: Hogwarts Mystery is a m
obile adventure game
which will allow players to become students at the wizarding school. It was
launched on 25 April 2018.
I couldn't write about the new Harry Potter game before, because there were important subjects on the
last days in April
and
first days in May
. You know it!
Here the announcement on last April 25 on Pottermore:
"It's time to create a new Hogwarts student, choose your house, and attend classes at the one and only Hogwarts School of Witchcraft and Wizardry in the new mobile game,
Harry Potter: Hogwarts Mystery
, which launches today. First of all, here's the trailer to whet your appetite one last time"
Created by games studio Jam City, Hogwarts Mystery is the first offering from Portkey Games, the new games label launched by Warner Bros. Interactive Entertainment.
Education:
I won't lie! My potterheads in the 90's hoped every day
that they might get a letter from Hogwarts, some of them Nicknamed Potter as a family name. Oh! dear!
By that age, the existence of a secret school in the Highlands of Scotland seemed so possible!
They imagined Hogwarts would be much the same as our school,
but for wizards instead of extremely posh children.
They wrote letters to Hogwarts school hoping to have an answer. They were aged 9-11. On that age, imagination has no boundaries. Everything is wionder!
Hogwarts Mystery takes players into the acclaimed institution to live and learn as a pupil. But don't expect to see familiar faces among the student body.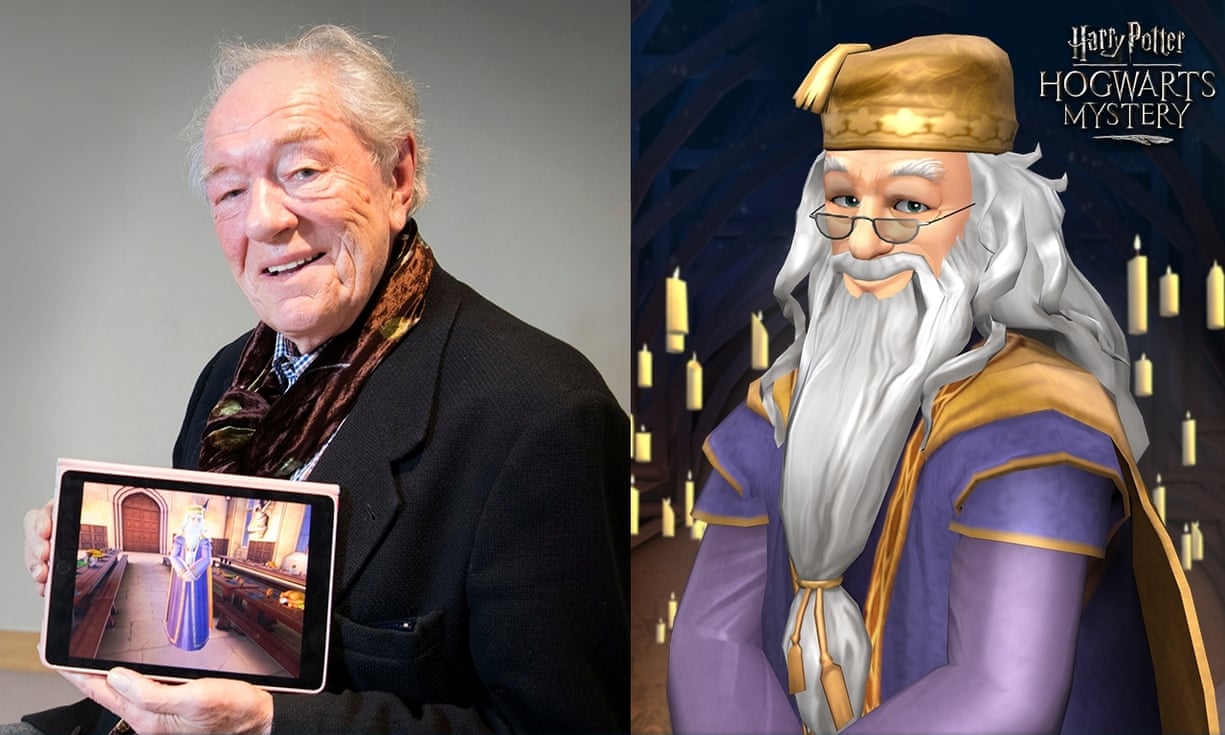 Michael Gambon as Professor Dumbledore
in Harry Potter
Hogwarts Mystery
Also appearing are Sally Mortemore as Madam Irma Pince, Gemma Jones as Madam Pomfrey and Zoë Wanamaker as Madam Hooch.
The first

Harry Potter
games in more than 6 years,
Harry Potter: Hogwarts Mystery
seems to
attempt to fulfil that childhood fantasy.
Warwick Davis/ Professor Flitwick
credits:
Warner Bros. Interactive Entertainment
Narration: Characters & experiences
It's a soft narrative game that offers an
uncomplicated
Hogwarts experience, letting students pick
their house, from friendships and rivalries and master spells in the famous castle.
The writing in the early scenes, however, is a little bland. It makes a good attempt at capturing Snape's sardonic disdai, but there's not much flair to it. It doesn't have the fizz and personality of the books. No.
Described as 'a story-driven mobile narrative role-playing game', Hogwarts Mystery will see players/students
creating their own student characters, attending classes, learning spells and taking part in Duelling Club.
It will be possible to build friendships – and rivalries – as the story evolves, with key decisions affecting the character arc, while a new encounter system will provide pivotal moments that will shape each quest.
credits:

Warner Bros. Interactive Entertainment
The story is set prior to The Chosen One's arrival at Hogwarts. Instead,
players /students
have
the opportunity to make their own narrative choices and engage with the wizarding world setting to create new and unique experiences.
Young students
can write their own chapters, without being overshadowed by Harry Potter's fame.
credits:

Warner Bros. Interactive Entertainment
As well as being able to attend Hogwarts classes, go to Flying Class lessons, visit their chosen house's common room (finally! A proper look inside Hufflepuff's!), enrage Snape, or simply make new friends.
The game invites kids to twist the narrative in different directions, as well as giving their character a mysterious backstory.
The writing in the early scenes, however, is a little bland; it makes a good attempt at capturing Snape's sardonic disdain and McGonagall's pursed restraint, yes. But
there's not much flair to it. It doesn't have the fizz and personality of the books. For sure. The books were so
tempting! Even me, as the teacher reading the books in the classroom, I was really interested on the narrative.
credits:

Warner Bros. Interactive Entertainment
But it's all about the little details too: in every conversation young new potterheads
choice dictates their character. And not just the character. For example, Pottermore "
recommended one of it new friends Rowan a cool new hat, and we're thrilled to say she took our advice in a later scene.
credits:

Warner Bros. Interactive Entertainment
The game is not written by J.K. Rowling herself.
The game has been honed to emulate the
Hogwarts experience
so kids, the student/player, can create their very own Hogwarts story.
Apps:
Game Features:
Magic Spells, Potions & More
- Attend classes to learn and master magical skills like casting spells and brewing potions.
- Unlock new characters, spells, potions and locations as you advance through the years of Hogwarts.
- Customize your student avatar.
- Use your magical skills to investigate mysteries at Hogwarts.
- Discover the truth behind the Cursed Vaults and your brother's disappearance in an all new story.
- Bond with your housemates to win the House Cup.
- Go on quests to help friends and fellow students…or frustrate rivals.
- Earn respect and build relationships by adventuring together.
Available:
iPhone
Android
Please note that Harry Potter: Hogwarts Mystery is free to download and play, however, you can purchase some in-game items with real money.
If students want
to limit this feature, they must
disable in-app purchases in their device's settings.
"After drawing in the Potterites with a enchanting start, this game constantly interrupts your play unless you pay up. It's dull, dismaying and deeply cynical"
Keza MacDonald, Games, The Guardian
screenshot Harry Potter: Hogwarts Mistery
Some notes:
Hogwarts Mystery really captures something of the Hogwarts fantasy. It's set in the 1980´s when Harry was still a baby, so there are no conversations with Draco or Ron, but there are cameos from other well-known characters in their younger days.
For students who love Harry Potter
books, there's a thrill to trying out your first wand in Olivander's.
And of course for teachers who want to include games into school curriculum to captivate young and new potterheads. An of course teach narration.
Oh! Perhaps are you a young teacher around 25-30 years, first potterheads generation?
G-Souto
13.05.2018
Copyright © 2018G-Souto'sBlog, gsouto-digitalteacher.blogspot.com®
Pottermore/ Hogwarts Mystery