"The ICT 2015 Conference presented the new Commission policies and initiatives with regard to Research and Innovation in ICT, Excellent Science and Societal Challenges."
It was focused on how we can "Innovate, Connect and Transform" the Digital Society.
Near 6 000

people attended

#ICT2015! Wow ! Amazing number! And it was so true. I attended the ICT2015.
The CCL was full of good vibration, animated talks between the sessions. People of so different coutries, not only from Europe.
T
he ICT 2015 event comprised a huge number of activities:
A policy conference presenting the new Commission's policies and initiatives on Research & Innovation in ICT;
An interactive exhibition showcasing the best results and impact of most recent EU ICT Research & Innovation;
Many networking opportunities to enhance quality partnerships, help participants find partners, connect Research and Innovation and trigger collaboration;
Horizon 2020 Work Programme 2016-2017 thematic sessions, offering detailed information on the funding opportunities in ICT sector;
The Startup Europe Forum, offering a set of activities profiling EU policy actions for startups and SMEs, innovators, private and public investors.
5,723 participants, 120 networking sessions, 127 speakers,

150 successful EU-supported projects displaying their results, glass pavilion in the heart of Lisbon and thousands of visitors including Commissioners Günther H. Oettinger and

Carlos Moedas

,

7,000 followers & 18,000 tweets it's been a record-breaking

#ICT2015.

Impressive numbers, awesome event.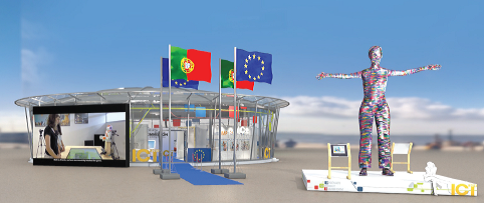 Off-site exhibition at Praça do Comércio
Besides,
The

ICT 2015
off-site exhibition took place between 18th-22nd October 2015 and was being held in a custom-built panoramic pavilion on Praça do Comércio,
in the centre of Lisbon, Portugal
.
I wrote about this off-site exhibition
Escolas : Visitas de Estudo Exposição ICT 2015 inviting teachers and students to visit it. I think it would be an interesting school experience about science, innovation and IT outside the
classroom. It was a great success.
Hope you have been there with your students. Did they interact with the robot
Alfred, one of the hosts of the exhibition? Hope so. Students love robotics.
Exhibitions are po
werful resources to explore and include into the school curriculum.
Students learn better when evolving competences
outside the classroom in
live events.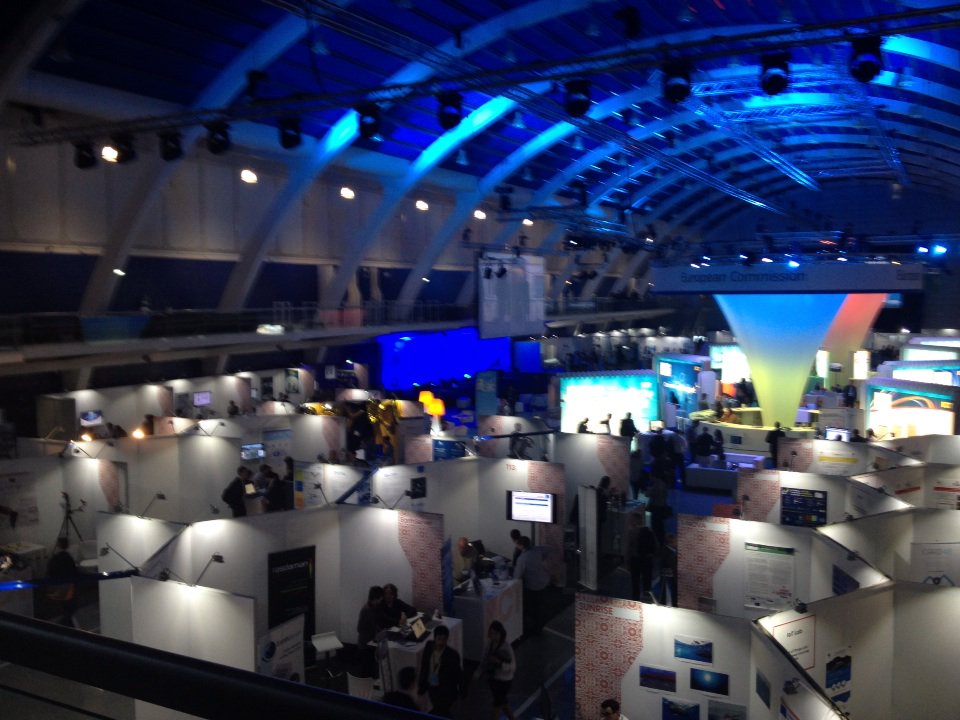 credits: GSouto (via iOS)
Overview of the
interactive
exhibition
First day, on the 21 October, I started visiting
, in different moments of the day,
the
interactive
exhibition - the ah-ah of innovation, creativity, science and technology.
A
dynamic showcase of "
the best-in-class results of the existing European ICT Research & Innovation".
The exhibition encompassed innovation at "the interconnection of
science, technology and art"
.
Art elements, artistic representation of a project idea, artistic creativity on-site were foreseen to be streamlined throughout the exhibition.
The exhibition
design was really awesome. Looking around for some time,
I was fascinated with all I
could see, the
advanced research, future visions.
Inspiring ideas. Amazing projects.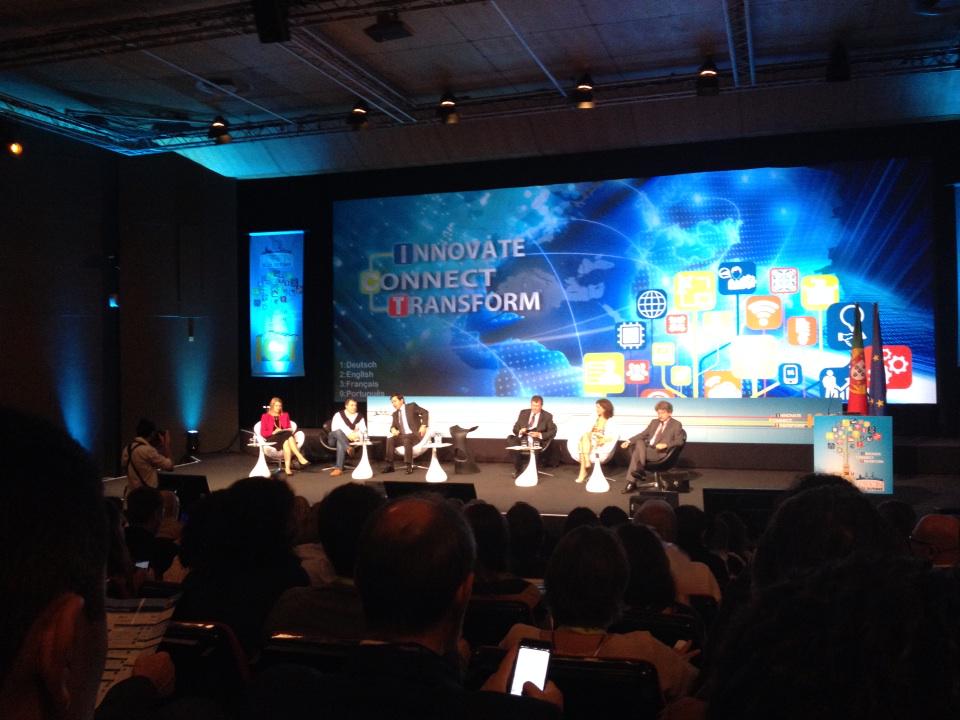 credits: GSouto (via iOS)
https://twitter.com/gimst
After the exhibition my priority, as
a creative educator, and a specialist in
Education and Innovation, was to participate in
the Plenary sessions: Opening Ceremony ; Innovation Potential in the Digital Age ;
Transforming Research and Innovation into Growth and Jobs, Prizes Award Ceremonies, Final Plenary: The Transformative Impact of Excellence Science.
The better way to have a good panoramic idea
about all the good things at ICT 2015. I couldn't reach all the sessions with so many parallel sessions. I was not there for business.
S
o I focused myself on the Plenary sessions.
But I participated in two parallel sessions on Digital Learning.
Not so interesting. Traditional networks, no
interacting or presenting innovative ideas about ICT in Education. This event deserved better parallel session in
Education (Schools).
To me the real creative session was the Plenary 6 :
Driving Innovation through Creativity and the Arts.
It took place at the
Auditorium 1
, first day October 21
. Awesome projects through Arts and creativity. Inspiring talks by an awesome panel. I would like to
highlight
Simona Maschi CIID, Denemark
"From Inspiration to Impact", Gerfried Stocker,
Ars Electronica Linz GmbH.
Starting from the idea
"
How can creative ideas be brought in from the edge to transform how we live and work?", the speakers
explored through inspirational examples in education, in industry, and in academia, on what more can be done to benefit from this exciting nexus and stimulate it further.
The aim of the session was to discuss how stimulating the crossovers of creative ideas, particularly from the Arts, can drive innovation in Europe.
Speakers addressed how crossovers from culture/the Arts to innovation is done in industry, in education and in academia.
Visual summary from the 6th
#ICT2015
Plenary Session
The visual storyteller Veronica Harrisson
used the graphic
illustration to capture the fundamental ideas of the speakers and gave us her own interpretation on this clear
graphic facilation panel. Creative graphic facilitator. Applauded by the participants and the speakers.
As I wrote before I
CT
2015 hosted an exhibition of 140 Projects financed with European funds. The projects have been divided in 3 Categories :
Innovate, Connect, Transform. There has been also the main Prize of the overall exhibition.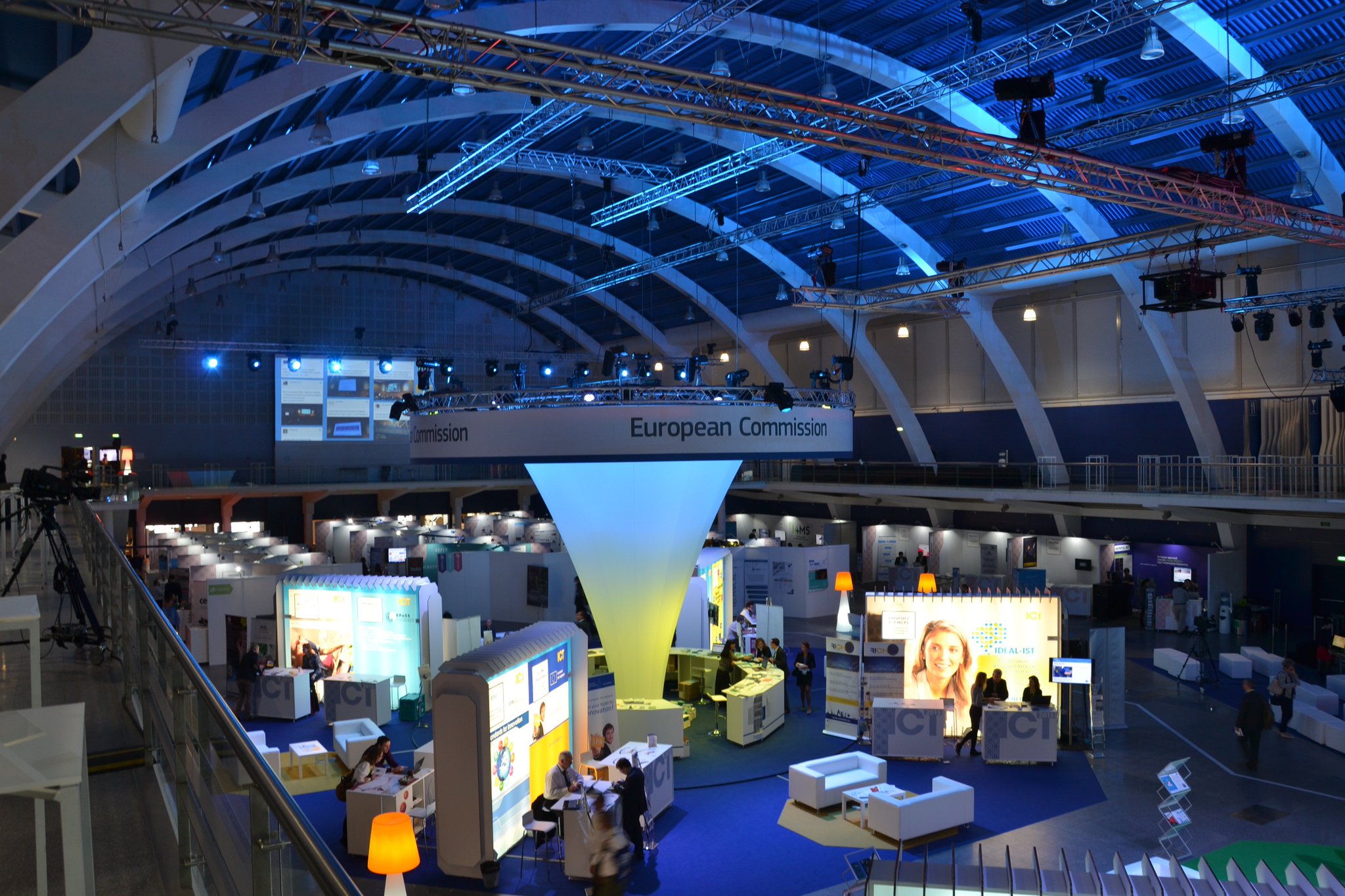 And the four
winners are:
Best Exhibition Stand: USEMP, User Empowerment for Enhanced Online Presence Management
Innovate winner: Human Brain Project
Connect winner: No One left behind
Transform winner: Rockin Monarch
Rockin Monarch directed to children in hospitals
& No One Left Behind directed to kids inclusion were my favorites, of course. My higher interests are the young people, special needs, inclusion and equity. I congratulate those two interesting projects.
Some considerations or a (im)possible report:


For three long days, speakers,
researchers,
practitioners
, producers, skate holders and participants
shared interesting ideas and experiences.
I joined
key speakers at Plenary sessions and two parallel sessions on digital learning, my area
I am an independent specialist in Education innovation (Schools),
a European micro innovator (VISIR),
I was very curious to hear about the new ideas.
I was focused on Digital learning and innovation potential in the Digital Age (arts, culture, technologies). I heard inspiring talks about innovation through arts, culture.
Digital learning and i
nnovation potential in the Digital Age (arts, culture, technologies)
were on my best interests.
Heard inspiring talks about innovation through arts, culture.
On the lobby for lunch or break coffee, the participants could discuss the ideas. Enthusiastic talks
Well, what can I say more? Impossible to describe the feeling of being a part of this incredible event. I
had a fantastic time in Lisbon attending the ICT 2015 conference.
Amazing event incubating a multidimensional mass of sciences, art, technologies and culture.
Best event I ever been ! Inspiring
talks,
creative
vibes, excellent
organization,
awesome
exhibition
design,
innovation,
technologies.
Of course this is a (im)possible report of an impressive event. Some notes about the areas that touch my interests in this excellent and innovative big event.
"While a new idea is a thought about something new or unique, and making that
idea real is an invention, innovation is an invention that has a socioeconomic
effect. Innovation changes the way people live."
Bijker, 1995 - The social construction of technology
Copyright © 2015G-Souto'sBlog, gsouto-digitalteacher.blogspot.com®
ICT 2015 website & social networks (videos, some photos, and information)
Bijker's quote: thanks to Simona Maschi