The second major earthquake within a short time in Nepal two days ago, May 12,
reminds us of the importance of science in predicting earthquakes so that more lives can be saved.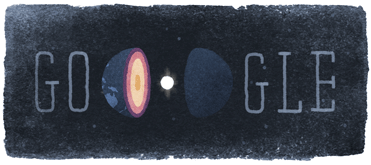 Inge Lehmann 127th birthday
Thinking about it,
Google's latest doodle celebrated yesterday May 13 t
he
birthday of Danish seismologist Inge Lehmann, who discovered the existence of an inner core in the Earth.
Coming 127 years after her birth, the doodle shows the Earth split in two with the inner core shining in the centre.
Lehmann, who died aged 104 in 1993, studied earthquakes to find that the Earth had both an inner and outer core, a revelation which redefined how the planet was studied.
Illustration © American Museum of Natural History
Some biography:
"At
the turn of the twentieth century, a teenager in Østerbro, Denmark felt the ground move beneath her feet. It was her first earthquake, but it wouldn't be her last."
More than two decades of study and observation later, Inge Lehmann's work sent shockwaves through the scientific community.
Illustration © American Museum of Natural History
By observing earthquakes, she discovered the earth has both inner and outer cores. Her work has withstood the test of time. In fact, it's still the foundation for seismological science today.
Education: Science & Solidarity
Inge Lehmann was a pioneer among women and scientists. Her early education was at a progressive sch
ool where boys and girls were treated exactly alike.
This was a great contrast to the mathematical and scientific community she later encountered. Once she protested to her nephew, Niles Groes:
"You should know how many incompetent men I had to compete with—in vain."
She was given the highest honour of the American Geophysical Union, the William Bowie medal, in 1971.
She was a strong proponent of gender equality. Her pioneering spirit is an inspiration to all the young female students.
Pioneers like Inge Lehmann
make this world a better place by helping us understand it from the inside out.
But let's talk again about Nepal earthquakes.
The earthquakes in Nepal have created tremendous suffering as we know.
More than 1 million children need immediate assistance says Unicef.
This is another important issue to introduce into the school curriculum : solidarity.
"At least 940,000 children living in areas severely affected by earthquakes in Nepal are in urgent need of humanitarian assistance"
UNICEF
This crisis leaves children particularly vulnerable - limited access to safe water and sanitation will put children at great risk from waterborne diseases, while some children may have become separated from their families.
Of course the immediate focus must be on saving lives, and keep the children healthy
but thousands of schools are out of action or badly affected by the two earthquakes.
Almost one million children who were enrolled in school before the earthquake could now find they have no school building to return to,"
Tomoo Hozumi, Unicef's representative in Nepal
In the worst hit areas this will have a terrible impact on children's education and it will be important to help children back to school as quickly as possible.
"Prolonged interruption to education can be devastating for children's development and future prospects."
credits :
Athit Perawongmetha/Reuters
Some thoughts :
Schools all over the world
are
introducing into lessons the earthquakes in Nepal and
its consequences.
And solidarity to these million of chidren who have no school now, it will be an important value to talk with the students.
It is a delicate subject, there are
shocking
images - v
ideos, photos -
running
on the internet about the victims.
But more shocking is to know that Nepalis chiidren would love to go every day to school and they can't.
Young adolescents are supportive, they
u
nderstand, and dis
cuss in the classroom
what it is going on around the world and they engaged in actions to help another kids and adolescents victims
natural
catastrophes such as Haiti earthquaker (2010), Katrina hurricane in USA (2005), Haiyan typhoon in Philippines and now Nepal earthquakes.
They have a conscious idea about it. They are the "net-
generation" t
hey are "wired" all day. They are supportive on social media and sometimes begin humanitarian campaigns to help people around the world.
And we have a new
environmentalist generation
among our students.
They involved in environmental
campaigns or fight bad behaviors against
Eart

h
.
There are so many values in many lessons that can be taught about natural disasters and solidarity.
Curricula:
Geography; Sciences; Civics; History.
I linked a few
digital resources on this post to
support the theme in your lessons.
Resources:


Different digital resources are available. As educators, we can adapt and introduce them in school curricula to assist students as they seek learning opportunities around emotion-charged dates.
Of course every teacher must review the resources before introducing them, and evaluate one by one
in school context.
Photography:
Th
ere are thousands of photos online (newspapers, television). These are just some I selected. I
t's up to every teacher make a research of the best photos adapted to the curriculum and level they are teaching.
Oif course y
ou can ask your students to search for their personal sights about Nepal earthquakes on the internet and social media.
Note:
All reproductions of non-brand content must be credited, as follows: Photographs: "© UNICEF /photographer's last name"; Videos: "© UNICEF video", please credit UNICEF onscreen; Print content: "© UNICEF". Assets not credited are not authorized. Thank you for supporting UNICEF.
Copyright to students:
T

eaching Copyright

provides lessons and ideas for opening your classroom up to discussion.
Let
your students express their ideas and concerns, and then guide your students toward an understanding of the boundaries of copyright law.
The video below is a nice resource to talk about copyright:

Other resources:
Games :

S

erious Game (SG)

approach encourages students to explore and develop their own experience, 'live' inside, following their own path and personalizing the experience.
I wrote about two SG on this blog some time ago:
The two
Serious Game
might motivate students' awareness to the problems of natural disasters,
solving some problems, and
preparing to be active citizens.
Social media : Twiter ; Facebook ; Google

+ ; Pinterest ; other.~
National Geographic | Education
Natural disasters
contains a selection of content from NG Education about natural disasters. Available for teachers and students.
Inge Lehmann | American Museum of Natural History
As you see, talking about earthquakes without mention
Inge Lehmann was impossible. She's the great scientist who make us to understand better why earthquake happens.
Hoping the Nepalis
could
pick up the pieces and get on with their lives, despite the challenge
.
My
thoughts are with the people of Nepal and neighboring countries.
They need to rebuild their lives, homes,
cities, and villages.
Copyright © 2015-Souto'sBlog, gsouto-digitalteacher.blogspot.com®