The United States of America was rocked to its core on September 11th, 2001. Twenty years later, people all over the world will remember how they felt that day.
America mourning

the 20th anniversary of the terrorist attacks on New York, Washington and Pennsylvania - 93 Flight - that killed nearly 3,000 people and helped shape the 21st century.
Nearly 3,000 people from 90 countries died in those coordinated attacks. Twenty years later, those events remain powerful and present. Hear from survivors, learn how that day changed American lives and how people healed.
For the anniversary of that day, we hope to remember those who lost their lives by honoring the men and women who serve to protect all citizens and keep them safe every day.
"A la minute où le deuxième avion a percuté le World Trade Center, la date du 11 septembre 2001 est entrée dans l'histoire. Il était 9:03 heures à New York. Devant leurs téléviseurs, les millions de personnes qui ont vu le vol United Airlines 175 s'encastrer dans la tour sud ont compris instinctivement que rien ne serait plus comme avant."
Le Monde.fr, 2011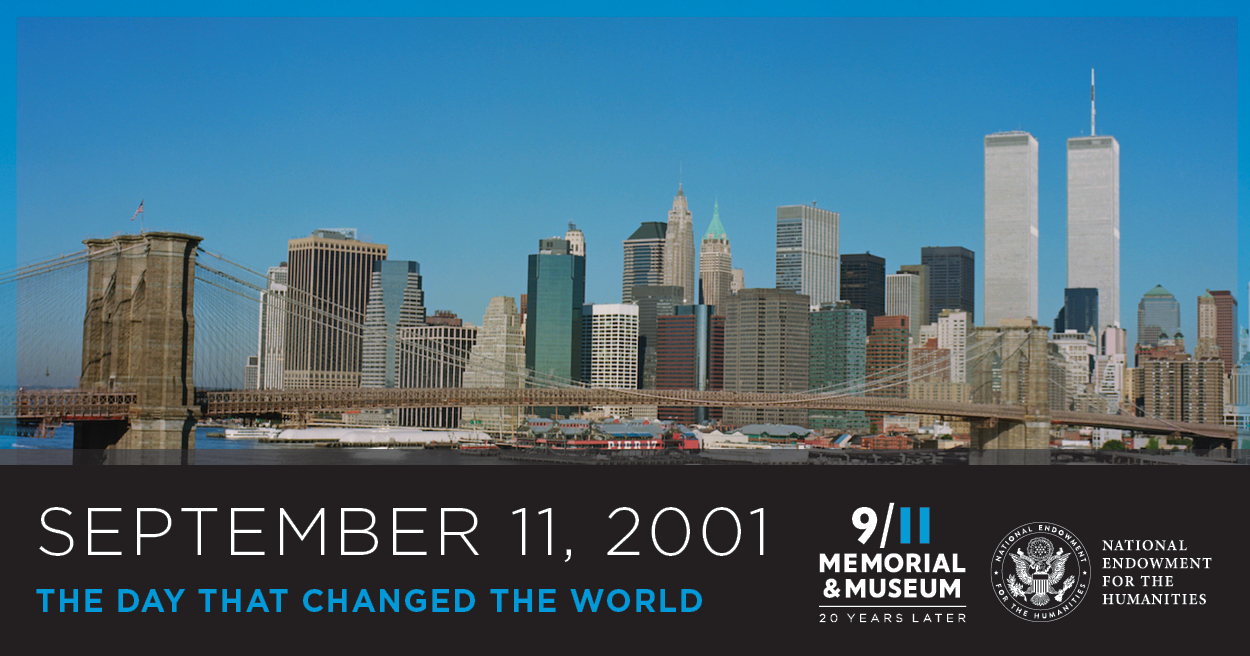 credits: 9/11 Memorial & Museum
Schools across the world are considering to help students observing the 20th anniversary of the 9/11 events. Reading the testimony of a pupil 10 years-old who watched on the television the horror of shocking images live.
Sometimes, my colleagues ask me if I discuss 9/11 in my lessons. Yes, I do
! They wonder how students react. It's a difficult subject. Very traumatic.
I agree, but students have the right to know the recent
history of the XXth century. And I always do my best to tell them what I saw on the
day
that changed the world. I watched television, live. So as my
young students
at the time. We can't forget. Nobody can't.
I think it's impossible not to include such a tragic event as September 11th into school curriculum.
Those moments are
still present in my memory. And always be. S
tudents must given the chance to reflect on the events of this tragic day and have
a thought
for all involved. Peace is the word.
credits : Chang W. Lee/Getty Images
It was a school day like every other day. L
unch time. Some teachers appeared at school before the beginning of the classes and told us to
watch the news on the tele
vision. We stopped our lunch
and went to Teachers' room.
CNN was on the air, breaking news. Horror
! Our eyes were incredible opened
. We couldn't believe. The images live were so dramatic.
The students arrived at the school few minutes later. They were very young,
between 10-15 years-old.
Time to begin the classes.
T
he school bell rang.
credits:

Peter Morgan/Reuters
Teachers
were wondering how to face the students! Some minutes later, the school was full of young people.
And they would ask for answers.
We could already hear their voices along the
corridors. The students were talking frenetically.
On the classroom, they didn't sit. They were all around me
asking
- "What's going on, Teach'?",
- "Did you watch the television?" "We couldn't understand!" "So terrible!" Please, tell us what's going on..."
They were so anxious, they couldn't take their places. I sweetly asked them to sit, and then we could talk about.
Some of them cried, others wrote some notes about what they watched. Too young to see the horror they could watched live.
Camp set up in 2002 for kids who lost a parent (or parents) in the attacks of 9/11, and also for children of fire fighters or police officers killed in the line of duty
credits:
Dina Rudick/Globe Staff
Those twin towers
Standing tall with pride,
Fell with grieving hearts.
Stunned, America cried.
But we're still standing. (...)
Hannah Schoechert,
We're Still Standing,
7th grade students
credits: Ben Hider/ 9/11 Memorial & Museum
It
shocks me even
now, so many years later. Every images is clear and so present in my eyes. Even today, on the 20th anniversary, I can't watch again some terrible images from some people jumping from the windows. The world televisions are in the air all over the world.

Activities : some ideas


Ask about the facts

showing some videos from the 20th anniversary, 2001 photos, as a brainstorming. Then open a

discussion to involve all the students.
To

e

nhance their learning of 9/11, some days before, invite your students to ask

their parents, grandparents, even older brothers or sisters about thei

r personal experience at the 9/11 as participants or visual.
On September 11, - not on 9/11 2021 due the pandemic time, some schools are still closed without in-person lessons, but teachers can on remote learning -

students can share all the information they got (pictures, news, testimonials, videos), and will express

freely their feelings and thoughts
I know it is a delicate subject, but young people are curious about History. They like to understand the historical
facts, and they ask
questions if they don't understand to
be informed. They discuss what
happened on September 11, 2001
and they link it with what is
happening now
around the world. And they will have a c
onscious idea of the tragedy, now on the 20th anniversary.
There are so many stories and so many lessons that can be taught!
If you need, here some important resources:
Different resources are available to assist educators as they seek learning opportunities around this emotion-charged date.
If you are not an American educator as me, and
you want to include 9/11 into your lessons, here my selection
:
Social media:
9/11 Memorial & Museum website offers different virtual resources for teachers and students: Virtual school programmes; lessons plans; interactive timelines; oral histories.
We also want to collect their reflections.
What it the memory of that day by the research?
How did 9/11 change us, and how do you believe it changed America?
What did they lose caused by the 9/11?
"When you are seven years old, you really don't think there is anything bad in the world and that people are good. But they are not, and you realise that things don't always go the way that you would want them to."
Chantal Guerrero (17 years old)
This is my humble tribute to those who lost their lives September 11 2001.
And to the families who lost their loved ones.
copyright © 2021G-Souto'sBlog, gsouto-digitalteacher.blogspot.com®