© Stiftung Arp Ev, Berlin / Rolandswerth
Courtesy The Estate and Hauser & Wirth
Swiss painter, sculptress, dancer and textile artist who took French nationality.
The daughter of a German father and Swiss-German mother, Sophie Taeuber grew up in an environment in which art and culture were part of daily lif
e.
Gracing the face of every Swiss
50 franc bill
is the straightforward gaze of a dark-eyed woman. Behind this serious portrait lies one of Switzerland's most colorful artists: Sophie Taeuber-Arp, whose 127th birthday Google celebrates today with an art
istic
Doodle
.
Google Doodle 127th anniversary
Once again Google the s

earch engine and its doodler team is honoring women in Arts.

The last one was the Brazilian

Lygia Clark

on

the 23 October 2015. And I can't forget the French Niki de Saint Phalle on the 29 October 2014.
Today, 19 January 2016 the

Swiss artist Sophie Taeuber-Arp, one of the foremost figures

in the rebellious Dada art movemen

t

,

has had her 127th birthday honoured with a Doodle.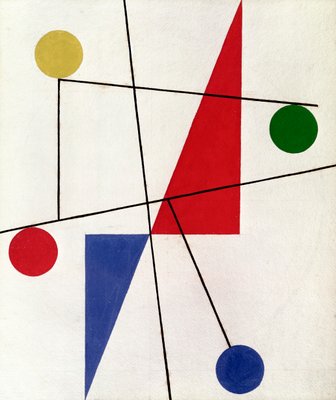 The Swiss artist Sophie Taeuber-Arp is the latest individual to receive a special Google Doodle celebrating her life and work.
"T
his was an especially fun doodle because Sophie Taeuber-Arp was such a prolific and diverse artist. I almost couldn't make up my mind which of her works to draw inspiration from, and I just wanted to keep going. Hopefully in the end, I was able to capture the spirit of at least one aspect of her work, and help draw a few more eyeballs to her many contributions to the arts."


Composition of Circles and Overlapping Angles, 1930
Sophie Taeuber-Arp was a leading figure in Zürich and Paris Dada. Taeuber-Arp pushed the limits of abstraction in paintings, sculpture, and textiles. She also danced and designed sets for Dada performances.
She was known as one of the foremost artists of geometric abstraction - which forms the style of today's Doodle.
Her work is like dance music – liberating and joyful. Abstract art is often said to originate in the heavily spiritualist ideas of artists like Wassily Kandinsky (my post on 16 December 2014) and
Piet Mondrian. Yet Sophie Taeuber-Arp invented, along with Hans Arp, a different kind of abstraction that accepts chance and roots itself in the physical rather than spiritual world. It is like a utopian game.
So why is she important? She showed that abstract art was child's play.
Born in Davos, Switzerland in 1889 as Sophie Henriette Gertrude Taeuber, Taeuber-Arp is now recognized as one of the key figures in the Dada artistic movement, though in her lifetime she fought for her less figurative style of art to be recognized as fine art.
Comppaition, 1931
Sophie Taeuber-Arp
Born in Davos, Switzerland, Taeuber-Arp left home at eighteen to study textile design in Munich. Returning to Zurich in 1915, she began to produce non-representational paintings, which she referred to as "concrete" paintings. The paintings were influenced by her training in textile design, as well as Cubism.
Taeuber-Arp was a Swiss artist, designer, architect and dancer. Notably, she's one of the most important artists of geometric abstraction – her minimalistic style, which is reflected in her textile artwork, marionettes, interiors, drawings, paintings, reliefs and sculptures, makes her distinguished amongst other artists of the early 20th century.
Together with her husband, Dadaist artist
Hans Arp
, she permanently moved to France in the late 1920's.
Artist Maker: Robert Bonfils, 1925
Her participation in the International Exposition of Modern Industrial and Decorative Arts took her to Paris in 1925 where the couple, who would obtain French nationality the following year, frequented the Surrealists.
From 1916–1928, Taeuber-Arp taught textile design at the Zurich School of Arts and Crafts. Taeuber-Arp was active in Zurich's Dada group between 1916 and 1919; she danced in avant-garde performances at the Cabaret Voltaire, an important center of Dada activity.
Hans Arp and Sophie Taeuber-Arp, Ascona, 1925
© Archiv Fondation Arp, Clamart,
photographer: unknown, © VG Bild-Kunst, Bonn 2019
At the same time, she met Jean Arp,
French sculptor, painter and collagist in 1922.
The pair famously created vast, abstract multimedia works under the umbrella Duo Collages.
After World War I, many of Taeuber-Arp's friends and colleagues moved to Paris. She continued teaching in Zurich until 1928 when she and Jean Arp moved to Meudon, near Paris. Together with her husband and artist Theo van Doesburg, Taeuber-Arp received a commission to design the interior Café de l'Aubette (destroyed and rediscovered)
, one of the first modernist spaces to unify form and function, in Strasbourg, France.
Strasbourg Ciné Bal de l'Aubette
The café commission marked the beginning of the most productive period in the artist's life. She joined several artists' organizations, edited and wrote for radical publications, and exhibited her work throughout Europe.
Arp was a friend of the celebrated Surrealist Max Ernst, and is considered a founder member of the anarchic Dada movement, which celebrated the avant-garde, conceptual approach to creating art, often resulting in unorthodox materials appearing in abstract, unusual compositions.
Taeuber-Arp
on the 50

Swiss Francs

note
Taeuber-Arp and her husband fled to southern France when the Nazis invaded Paris. In late 1942, they returned to Zurich, where she died in 1943, the 12 January.
After Taeuber-Arp's accidental death by carbon monoxide poisoning, Arp worked to promote her legacy, in part by producing a number of posthumous "re-creations" of her artworks.
The Dadaist movement was an art movement of the European avant-garde in the early 20th century.




The movement sprung up in Zurich, Switzerland during and immediately after World War I, largely in reaction to the 10 million dead killed during the conflict.





In 1916 the Dadaists - the

nonsense poet

Hugo Ball

and the maverick writer and drummer

Richard Huelsenbeck

-

began to put on performances in the Cabaret Voltaire club in Zurich, expressing their disgust with the war.




The artists blamed rational society for bringing European civilisation to the brink of destruction so they created art that was anything but rational: it was absurd and playful and it often meant nothing.







The name also meant nothing. In 1916, the poet Tristan Tzara apparently stuck a penknife into a dictionary at random and landed on the French name for 'hobbyhorse'


Key figures in the movement included Hans Arp and wife Sophie Tubaer-Arp, Hugo Ball, Emmy Hennings, Raoul Hausmann, Hannah Höch, Johannes Baader, Tristan Tzara, Francis Picabia, Richard Huelsenbeck, George Grosz, John Heartfield and Marcel Duchamp - whose 1917 work Fountain (above) is perhaps the best know work of the movement.

Education:
«'D
oodling' other artists gives us the chance to truly appreciate their work through the study and deconstruction of their art
.»

Artist: Mark Holmes


The same quote can be applied when we include the Doodle into our lessons. The students will learn to admire
the work of an artist, beginning to appreciate art
and later they wil understand the artist, his/her
work, and the
'epoque
' or artistic movement she/he integrated.
As I always write,
Arts are

absolutely necessary to a complete and better education of children and young adolescents.
Discovering Arts in school education,
some students can pick their inner path on Arts and later they
will choose Art
colleges and Higher Schools of Arts to develop their aptitude by a real leaning of Arts.
Digital culture is well-come into the
the curricula as an
important tool to
tackle the world's toughest problems
creating bridges and establish a truly intercultural world, where diversity can be celebrated, a world where different cultures not only coexist but value each other for their contributions and potential.
Level: All levels.
Focus on Arts (

Vocational Education) ; School of Arts (Higher Education.
Secondary education: c

ross-curricular Literature & Arts.
Curricula: Arts ; Literature ;
Design ; Digital Arts.
Resources for teachers & students:
Note video:
This is an excerpt from Brain Caplan's
documentary-in-progress on the Dada movement, titled, Random Acts of Beauty: The Story of Dada.
National Museo of Women in Arts:
"Dada is for dreams, colorful paper masks, kettledrums, sound poems, concretions, poem statistics, for things that are not far from picking flowers and making bouquets."
Hans / Jean Arp
Copyright © 2020G-Souto'sBlog, gsouto-digitalteacher.blogspot.com®