The app combines Candide (1759) by French philosopher Voltaire with professional human narration. The app offers the book in 3 languages:
English, French and German.
screenshot app Voltaire Candide
This free app for iPad and iPhone
is av
ailable: download on
iTunes (last update July 2018)
and
now available to download
on
GooglePay
(update July 2020)
.
Watch the video below about the French novel

(French language):
Education:
"Why do bad things happen to good people? Well, why not? The handsome young Candide, having been taught that this is the best of all possible worlds, quickly learns that is far from true. (...)
we must surely conclude that we can still profit by the example of lucidity, the acumen, the intellectual honesty, and the moral courage of Voltaire's Candide."
Voltaire,
Candide et l'Optimisme
Frontispiece

and first page of chapter one of an early English translation by T. Smollett et al of

Voltaire

's

Candide

, printed by

John Newbery

, 1762
First publication in
1759, the satirical
novel follows the adventures of a young man, Candide, and his mentor, the philosopher Pangloss.
Candide has become Voltaire's most celebrated work.
Published simultaneously in Geneva, Paris and Amsterdam in January 1759. That year no fewer than three English translations appeared, shortly followed by the early version that is now most often read, by Tobias Smollett.
"
C'est pour
se distraire que Voltaire se lance dans le conte philosophique. Publié anonymement à Genève,
Candide
connait un succès fulgurant : «
Queste coglionerie se vendent mieux qu'un bon ouvrage
.»
Le roman d'apprentissage du jeune homme à la poursuite de sa chère Cunégonde, à travers une Europe dévastée, permet à Voltaire de donner libre cours à sa verve satirique. (...)
Teachers
and students have now the opportunity to rediscover one of the major literary classics,
always read in Humanities curricula at school and college.
Voltaire's Candide,
a new app.
The app innovatively redefines the scope of a literary masterpiece and help us rediscover this important French classical book, in new and engaging ways as you could watched on the video.
The enhanced e-book includes the original Voltaire manuscript preserved at the Bibliothèque Nationale de France and further exclusive content.
The app contains three parts:
Book : To provide an optimal reading experience, the app can simultaneously display the text and the BnF's manuscript.

We can also hear a personable interpretation of Candide by major French actor Denis Podalydes.

With one touch, the reader can make use of the enhanced reading mode which facilitates access to the work: definitions, variants of the critical edition as established by the

Voltaire Foundation, character sheets, place, concepts, illustrations of the text by 18th century engravers but also by Paul Klee.
World : A map allows the reader to chart Candide's journey while offering opportunities to further in-depth study t

hanks to interviews, a bibliography, and an iconographical library.

Michel Le Bris, Alain Finkielkraut, Martine Reid and Georges Vigarello all shed new light on such themes as "Women in the 18th century", "El Dorado", "Cultivating you own garden", and "The image of the other".
Garden : A collaborative space facilitating discussions on Candide.

The garden

allows each reader the opportunity to organise and publish

a notebook made up of their own comments and their favourite analyses

as a book visible to everyone.

Each notebook appears in the garden as knowledge trees, which grow as the reader enriches them.
This is a book for those desiring to contemplate life. It tells the story of Candide, who gets kicked out of the castle, forced to serve on a boat, shipwrecked, robbed, tortured, and on and on, without losing his desire to continue forward in life.
screenshot app Voltaire Candide
With sync audio feature you can both read and listen to your favorite book.
The app will highlight the sentence being narrated so that you can follow along as the words are read aloud.
Benefits of sync audio feature:
allowing everybody to enjoy their favourite book by reading, listening or reading+listening;
a useful tool for kids to learn reading or for people to learn a foreign language;
a valuable tool for people affected by reading disorders and dyslexia.
Long press a word and tap "Play" to activate sync narration.
Thanks to sync narration feature, you can change from reading to listening or vice versa easily.
screenshot app Voltaire Candide
- bookmark
- change font size and style
- night and day reading mode
- highlight text
- book with original illustrations
- Audio play in background (you can listen to the audio, while using other apps)
Note: Requires iOS 8.0 or later. Compatible with iPhone, iPad, and iPod touch (last version)
This part will be an important
educational tool for schools:
Teachers can create their own presentation (notebooks) in the garden and invite their students to contribute to the activity fr
om the website (feature availability: since 2013).
Curricula:
Humanities: Literature; Philosophy; History.

Languages:
French language, later English and German.
Level:
Secondary Education; Higher Education.
My thoughts on the app:
Candide is a timeless and universal text. The creation of Candide app was designed to make Voltaire's masterpiece accessible to the widest audience possible.
It's exciting! This new digital resource
is free, beautiful, accessible, and in no way inferior to the most erudite of editions.
The two levels of annotations, 'discovery' and 'research', solve the limitations of a paper edition by making it a useful tool for both academics and students.
Thanks to these two levels, as well as the map of the world charting Candide's travels, the reader can choose their own way into the text.
Just like Candide, the reader is free to wander through this Voltairean world and make their own discoveries at their own pace.
(based on considerations of Voltaire Foundation)
François-Marie Arouet (1694–1778), known as Voltaire
French Enlightenment writer and philosopher
Nicolas de Largillière, c.1724
Voltaire was one of the wisest, funniest and cleverest people of the 18th century.
He continues to have lots to teach us about toleration, modesty and kindness.
As a specialist of Humanities & IT, I'm really happy! Voltaire's Candide app iPad iPhone and now Android
is a marvelous tool!
! This will be an exciting teaching and learning digital resources
to academics and students. Classical Literature lessons will be creative and contagious.
*
Ot
her important digital resources for teachers and students
:
An interesting presentation of Voltaire and his ideas:
Voltaire was one of the wisest, funniest and cleverest people of the 18th century. He continues to have lots to teach us about toleration, modesty and kindness.
He was one of the first authors to become renowned and commercially successful internationally. He was an outspoken advocate of

civil liberties

, and he was at constant risk from the strict censorship laws of the Catholic French monarchy.
His

polemics

witheringly

satirized

intolerance, religious dogma, and the French institutions of his day.
De son vrai nom François-Marie Arouet, il connait la célébrité dès l'âge de 24 ans avec sa pièce de théâtre Œdipe. Poète, historien, philosophe, il est l'intellectuel qui incarne le mieux le siècle des Lumières.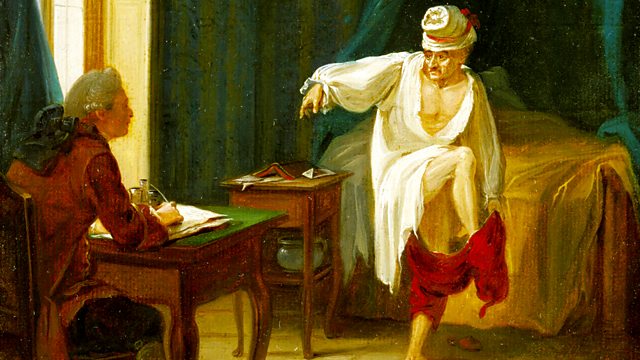 Voltaire's Candide/ BBC Radio4
An interesting and complete discussion about Candide with David Wootton Anniversary, Professor of History at the University of York; Nicholas Cronk, Professor of French Literature and Director of the Voltaire Foundation at the University of Oxford; Caroline Warman, Lecturer in French and Fellow of Jesus College at the University of Oxford.
A candide view of Candide/ Julian Barnes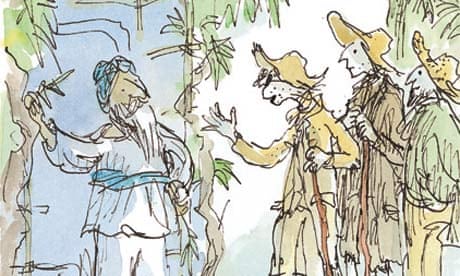 Detail from one of Quentin Blake's illustrations
to the Folio Society edition of Candide
Julian Barnes pays tribute to Voltaire's Candide, a satire that remains as fresh and pertinent today as when it was written in the 18th century.
update: 07.01.2021

Copyright © 2020G-Souto'sBlog, gsouto-digitalteacher.blogspot.com®