My students love to have a different lesson at
Valentine's Day
, February 14th! So, I always prepare something new to my class on this day.
I'm sure that your students love too talk about Valentine's Day in the classroom!
I would like to share some suggestions about a lovely short film that you can explore in your lessons at Valentine's Day, tomorrow.
But first, let's talk about
Oscar nominees
.
Paperman
is one of the 10 animated shorts being considered for an Oscar at the next
Academy Awards
.
The innovative animated short Paperman (Disney) from first-time director John Kahrs.
This lovely short film will captivate our students in our Valentine's Day lesson!
Is It Destiny?


Paperman
is just stunnin
g.
A little urban fairy tale. Charming!
I love how there is just a touch of red in this otherwise gray world. Meg
lipstick.
But, let me present
Paperman
! It's an innovative short animated film about destiny and the power of second chances. Belive in destiny? I do.
A young man in mid-century New York City meets with a beautiful young woman in a morning.

This beautiful woman will change the destiny of the young New Yorker.
It's "Heart, Imagination… and Paper". A young New Yorker has only his heart, imagination and a stack of papers to get the attention of the girl of his dreams in Paperman.
Paperman
is the story of George, a 1950s Manhattan businessman who has a chance encounter with the woman of his dreams on a train platform.
While at work later that day, he sees her in the building across the street and goes to great lengths to get her attention, employing the help of hundreds of paper airplanes – but to no avail.
Just as he's about to give up, luck finally starts to go his way and that's where the real magic begins.
"
the whole purpose od education is to turn mirrors into windows"
Sydney J. Harris
Passion is essential to teach. We must keep our students captivated in our lessons.
Every day we must introduce something captivating in our lessons, even we are teaching important skills in serious curriculum. Passion is what will make our students enter in the classroom waiting for something special in the middle of a lesson every day.
They will really realize that teachers love what they do, that we think about them when we are preparing a lesson for the next day.
Keep your students passionnate in your lessons, always.
So! It's Valentine's Day! Captivate the students with Paperman at the begining of your lesson.
But first just got an idea: buy some of those funny postcards Valentine's Day, write something nice about every student and leave them on the tables before students enter in the classroom. Just an idea!
sketches and final frames from Disney's new short Paperman
Start the lesson asking them to use their smartphones and share the short film
Paperman (YouTube).
Each student will watch the entire six-and-a-half-minute video just for fun.
Surprise is essential to keep students wired!
Keep an eye at their reactions, began a word wall. Word walls offer readily available support to readers and writers, and let you teach skills in a meaningful context.
At the end, let's the students free to discuss with you. Every time, they express new words, ask to
join write them
on the word wall.
Valentine's favorite words are just right for a word wall. Share with students the word wall and let them suggest other words they associate with Paperman or Valentine's Day.
Time for critical thnking:
How did the film make them feel?
What adjectives would they use to describe the film?
Does the film have a message?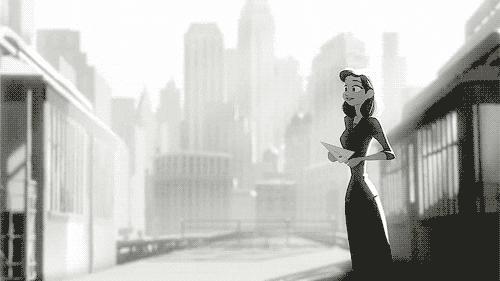 Ask the students to watch the film again (big screen computer now), They should down information using some points:

Creative writing:
Ask students to write the story of the film using narrative tenses and rich adjectives to describe the chracters and their emotions throughout the film.
Ask students to create the possible subtitles to introduce on Paperman.
Finally, let students create a music short list to introduce on Paperman.
sketches and final frames from Disney's new short Paperman
Note:
Activities will be adaptated to the level you teach.
Curriculum:
Languages: Mother language or foreign languages; Arts (Multimedia; Design; Music).
Level:
All levers (Kindergarten to Secondary education; Vocational Education (Multimedia).
These are just a few ideas on how you can spread the love in your lesson.
There are many more great ideas.
I would love to hear how your students reacted to Paperman and
how much they matter to you whether on Valentine's Day or any other day of the school year.
Paperman
John Kahrs, 2012
Some thoughts:
Paperman
became one of my favorite short animated film. So poetic!
We are transported to this fantastic world, a world that wey almost believe existed at some point in time.
"Each stroke of the bow on a violin, each airy blow of the brass, each key struck on the piano corresponds to an equally simple yet beautiful action on screen."
It's that sense of believability that makes this film so magical. It plays on those deep insecurities that we all have when it comes to love:
What if I miss out on the woman of my dreams? Will I ever find her again? It's a classic story that's been told hundreds, if not thousands, of times – but in the case of
Paperman
, fate fights back and gives our protagonist one more chance.
"Like its main character, Paperman is a genuine expression of happiness and perseverance that will lift your spirits and merit an immediate follow up viewing. It's proof that in this day and age, where big-budget blockbusters dominate the silver screen landscape, there's still room for animated shorts to find a widespread audience. Paperman is a sensational work of art, one that brings a refreshing twist to a conventional story."
Now, sit and just watch Paperman (trailer) :
Paperman
(2012) by John Kahrs
The Miami Student
http://www.miamistudent.net/arts-entertainment/