Disney Imagicademy aims to expose three to eight-year-old children to core educational concepts with a portfolio of learning apps
Last
Thursday, December 4,
Disney Publishing Worldwide unveiled a technology-driven learning initiative called

Disney Imagicademy. The digital learning initiative Imagicademy will be launched next week, on December 11.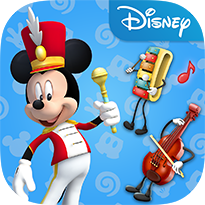 It's a suite of mobile learning apps for kids, along with an app
where
parents
can follow along, give their kids a virtual high five, and see recommended physical activities that complement that in-app lessons.
Disney said is
"the outgrowth of our work with experts" who specialize in early childhood education and believe that social skills are as important as the "1,2,3,4,5 things" when it comes to learning.
screenshot
Donald's Number Launcher
Aims:


It
aims to expose three to eight-year-old children to core educational concepts via a curriculum developed in conjunction with academic and education experts.
It's done with a very compelling curriculum-based approach, and it's "based on characters and mythologies that kids love."
screenshot Michey's Magical Math World
The product launch begins with Mickey's Magical Math World, an iPad-exclusive app
focused on math-based activities such as counting, shapes, logic and sorting
that features
five math-focused activities :
Mickey's Super Rocket Shapes
Minnie's Robot Count-Along
Daisy's Bedtime Countdown and
Each app aims to hone early math skills such as counting forward and backward, sorting and classifying, skip counting, number and shapes recognition, reason and logic.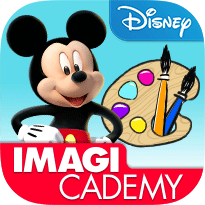 The second range of digital apps is Mickey's Magical Arts World, focused on creative arts, available on the Apple App Store for download in January.
If your child loved exploring Mickey's Magical Math world, it's time to unleash their creativity with Disney Imagicademy's latest world of creative play:
· Explore 5 worlds of imaginative play that help children develop early creative arts skills!
· Create your own characters and have them star in Disney cartoons alongside Mickey and Friends!
· Join Mickey and friends as you make music, design buildings and craft the silliest toys!
· Create your own characters, style them up any way you like, add your own voice and then watch them star in Disney cartoons alongside Mickey Mouse and friends
Mickey's Super Rocket Shapes
"Discover how much fun numbers, shapes, and problem solving can be!"
It aims families with children aged 3 to 8.

Dev
eloped with a team of educational experts,
Imagicademy
will include more than 30 app-based "experiences" centered on various subjects: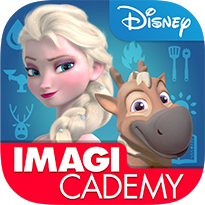 emotional and social skills
The first app to launch will be Mickey's Magical Math World on iPad, as well as the companion app for parents.
Disney will also sell related books and interactive toys. "Smart" stuffed animals, for instance, will be able to talk to Imagicademy users, responding to app activity and encouraging them to complete lessons.
"As you can see, it's so much more than a set of digital apps - it's about a brand," (...) "It's a comprehensive suite of connected experiences, all of which have been created with quality, attention to detail, and, yes, magic."

Andrew Sugarman, Disney
Here's a demo video of Mickey's Magical Math World :
Bob Chapek, president of Disney Consumer Products, said the company interviewed

parents

about existing learning apps,
"Parents told us they are confused and that they want a quality product from a name they trust," noting that Imagicademy is

designed for parents

to keep tabs on their children's progress.
During the presentation, last Thursday,
Jeff Sellinger, senior vice president of Disney Learning, gave quick demos of the math app, as well as
Mickey's Magical World of Arts
.
Both of them actually include five different games - fo
r example, there's a game focused on helping kids learn about three-dimensional shapes by assembling rockets.
screenshot
Mickey's Super Rocket Shapes
Levels :
Primary (1st and 2nd grades)
Target:
The target age group for these initial apps is three to five.
Over time, there will be apps for six- to eight-year-olds, and they might start incorporating other Disney characters and brands, like Star Wars and Marvel.
Price:
The apps will be free at first and offer a "pretty deep" experience. Now there are different prices for dofferent apps.

Education:


"Curriculum is not an easy thing to do it really well, particularly when you're driving towards imagination and creativity."
Early childhood education focuses on children's learning through play, based on the research and philosophy of
Jean Piaget
. This belief is centered on the "power of play".
Children learn more efficiently and gain more knowledge through play-based activities such as dramatic play, art, and social games. A great number of pedagogical experiences proove that.
The theory of play stems from children's natural curiosity and imagination, allowing topic lessons to occur.
Jean Piaget, theory
So this new l
ine of learning tools designed to help parents encourage kids 3 to 8 to learn outside of school is based on this theory.
The importance of early math learning is recognized. Kids will
learn in a playful approach. Not only math of course. But for the moment we
are describing a math app.
Each app aims to hone early math skills such as : counting forward and backward, sorting and classifying, skip counting, number and shapes recognition, reason and logic.
With Parents app, they can ask their kids, "What did you learn in school today?" and getting a shrug in response — because those parents can now open their companion app and see for themselves.
It also suggests a bevy of offline activities, such as creating "rocket racers" using toilet paper tubes, duct tape and balloons, or making a colorful "quilt" out of tissue paper to learn shapes.
All these creates deeper and more engaging experiences for kids and families. As teachers, we know the importance of engaged parents in school education.
screenshot
Minnie's Robot count-along
A Study finds that girls are interested in STEM and aspire to STEM careers, but need further exposure and education about what STEM careers can offer, and how STEM can help girls make a difference in the world.
All the

initiatives trying to open new paths

are welcome. An teachers have an important role on it.
You can begin by talking about women in science, math, astronomy, technology
in your lessons exploring great women to motivate girls and young women.
Another important point is kids and mobiles devices.

T

he proliferation of mobile devices and as more parents grow comfortable letting their kids use them, at least with limits in place, don't forget.
The American Association of Pediatrics estimates that children spend an average of seven hours a day on "entertainment media" that includes TVs, computers, phones and other electronic devices.
It recommends no more than two hours a day spent consuming and engaging with "high-quality content."
"Only education is capable of saving our societies from possibel collapse, wether violent, or gradual."
Jean Piaget
07.10.2014
update: 14.10.2017
Copyright © 2014G-Souto'sBlog, gsouto-digitalteacher.blogspo
t.com®