On May 18th, M

useums of the world are

celebrating

International Museum Day

with free admission and other special activities.


The objective of International Museum Day (IMD) is to raise awareness about the fact that, "Museums are an important means of cultural exchange, enrichment of cultures and development of mutual understanding, cooperation and peace among peoples.
Organized on 18 May each year or around this date, the events and activities planned to celebrate International Museum Day can last a day, a weekend or an entire week.




IMD was celebrated for the first time 40 years ago. All around the world, more and more museums participate in International Museum Day. Last year, more than 37,000 museums participated in the event in about 158 countries and territories.
Theme 2021:
"
The Future of Museums: Recover and Reimagine
"
With the theme "The Future of Museums: Recover and Reimagine", International Museum Day 2021 invites museums, their professionals and communities to create, imagine and share new practices of (co-)creation of value, new business models for cultural institutions and innovative solutions for the social, economic and environmental challenges of the present.
As per ICOM, the COVID-19 crisis has affected the museum sector and while there will be long and short term impacts, it also serves as a catalyst to discover innovative solutions.


International Museum Day is also a fantastic opportunity for museum professionals to meet their public. At the heart of society, museums are institutions dedicated to its development.
Now is the time to power education by stepping up collaboration and international solidarity to place education and lifelong learning at the center of the recovery.
As the world continues to battle the pandemic, cultural education – as a fundamental right and a global public good – must be reimagined to help recovering from the generational catastrophe.

After so many months closed, museums - art and culture - could be an interesting aim to recover school education.
However COVID19 is forcing yet again 43% of museums worldwide to close their doors.
Faced with alarming and extended closures due to the COVID-19 pandemic, the world's museums are of "fundamental importance" to reviving cultural life and preserving our shared heritage "in all its diversity"
UN cultural agency chief
Young people are coming more and more at museums. Teachers could be good guides to help young people to enjoy Museums live or virtual visits.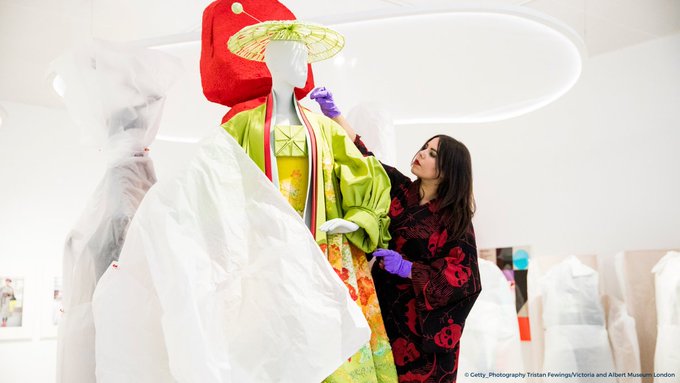 Victoria and Albert Museum, London
"
Museums preserve heritage for future generations, promote lifelong learning, provide equal access to culture and spread the values on which humanity is based, said."
Their function in terms of social inclusion is also vital to help keep societies together, and they play a major role in the creative education.
The authors also draw attention to traditional educational activities that are hosted by museums, such as school visits, guided tours and workshops.
Don't forget as well virtual guided tours that some museums offer to teachers and students because many museums worldwide are forced to close their doors.
Teachers have an entire weekend to talk about art and culture visiting museums live or virtual and
celebrating museums at school.
Check out some pedagogical i
deas to explore and support activities at a museum and/or at school with your students:
Visit a museum with your students.

Please read

Uma Aula no Museu

(Portuguese language) an interesting pedagogical project developing creative writing and artistic skills

t

hrough Portuguese painter Paula Rego

: cross-curricular Languages, Arts, History, IT;

Include Museum events into your school curriculum

. Invite your students to a weekend on art and culture;

Choosing different paintings and chef-d'oeuvres,

students get inspiration to write stories and draw some interesting works;
Well, let us enjoy the
n a cultural a
d
venture going at Museums that were closed so many months.
Believe me, your students will be creative admiring art, and will develop incredible activities.
Museums want to recover and are reimagining, by preparing fantastic activities to this big occasion. To have their public again.
This year, we needed art.
Copyright © 2021-Souto'sBlog, gsouto-digitalteacher.blogspot.com®