There is no fire like greed,
No crime like hatred,
No sorrow like separation,

(...)
words of
Budha
It was Valentine's Day! A special day for teenagers. It's a festive day at school! Teens and teachers include it into school curriculum.
"It was just a brief 'Happy Valentine's,"
Tyra Hemans, a 19-year-old student
Valentine's Day at Marjory Stoneman Douglas High School
However at

Marjory Stoneman Douglas High School in Parkland, Florida, this

afternoon has left 17 teenagers and teachers
dead and numerous others injured. They were
fatally shot by a 17 years-old
ex-student.
How can a 17th teenager be armed?
He claimed the lives of students with their whole lives ahead of them, along with those of the teachers who tried to protect them.
credits:

Larry Marano/REX/Shutterstock
I don't forget Sandy Hook.
I have no words,
I am devastated, absolutely devastated every time I read about a new shooting at an American school. I have
no words.
The news said that it was the 18th school shooting since the 1st January? Is it possible?
As a teacher, I can feel the sadness and sorrow of the families so
as the a
nger young people and families who lost their friends, schoolmates, teachers and beloved sons.
Students grieving each victim
credits:
Gerald Herbert/Associated Press
In the days since the shooting, many students are frustrated at the expectation that nothing will change.
How it's too easy to enter school buildings? - s
ome students and parents
are asking, I read. Me too, I asked myself.
credits: Rhona Wise/AFP/Getty Images
Some are questioning whether adults really understand the pain they are feeling. They are children. They believe in peace and a world without guns.
"There should not be lives lost in schools like this."
I believe that children, teachers, parents and families of
Marjory Stoneman Douglas High School shooting must
keep their privacy. So I don't mentionne names or publish photos of the victims.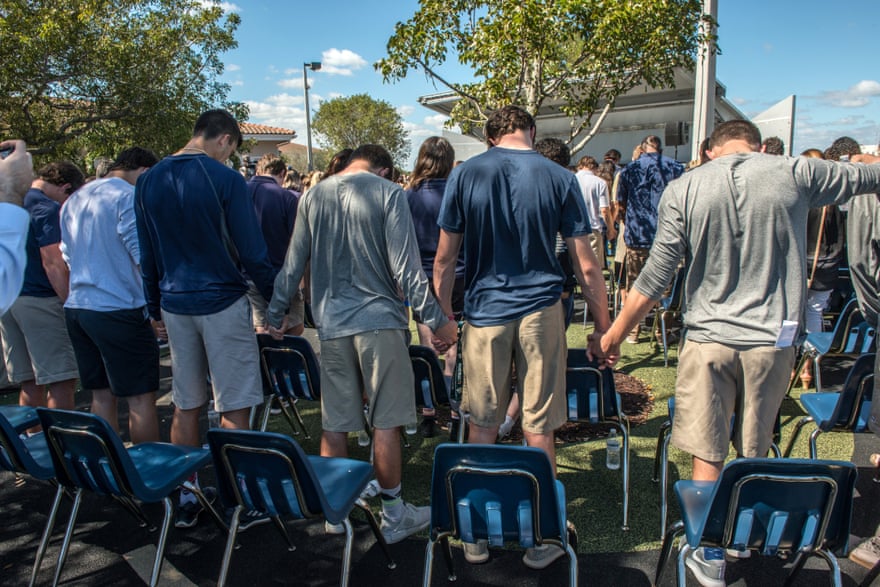 Grieving students, parents and teachers
credits: Gio
rgio Viera/EPA
Once again, I repeat North's words:
"It is our job to watch over the children of the world and keep them safe. For as long as they believe in us, we will guard them with our lives."
North, Rise of the Guardians
It will be so difficult for students and teachers to come back to high school in a few days!
A student wrote:
"RIP and fly with the angels. You will be greatly missed, and we will always love you and celebrate your beautiful life."
May the teens and families take a breath to handle this horrendous sorrow!
17.02.2018
copyright © 2018G-Souto'sBlog, gsouto-digitalteacher.blogspot.com
Tribute & sorrow : Stoneman Douglas High School, Parkland, Fla.
by
G-Souto
is licensed
under a
Creative Commons Attribution-NonCommercial-NoDerivatives 4.0 International License
.