Get ready for
Harry Potter Book Night:
A Night of Spell
s on February 4th 2016
!
Oh ! Well, this is big event to Potter's fans! The Harry Potter Book Night 2016.
Whether it is the disarming
Expelliarmus
or the dreaded
Avada Kedavra
, spells are at the very heart of the Harry Potter books so it's the perfect theme to inspire a spellbinding event!
If you haven't already, make a date in your diary for

Thursday, 4th

February

2016

! If you were a bit
a
bstracted
- oh ya the the
N
ight of Spells has been announced on the 9th November 2015,
as the theme for the much-anticipated Harry Potter Book Night 2016.
I know, teachers have so much to do! Preparing the lessons, the evaluation that sometimes, we lose something important and funny to enhance the skill of reading.
So, if you belong to this group,
y
ou have three days to prepare your students to take part on this big event to Potter's fans. No matter their age.
Once again, fans of all ages will have the chance to celebrate J.K. Rowling's wonderful novels – and pass the magic on to young readers who haven't yet discovered these unforgettable books.
For the first Harry Potter Book Night in February 2015, there were an amazing

10,500 parties and celebrations

held all over the world, and J.K. Rowling was overwhelmed by the fabulous pictures – so Harry Potter Book Night 2016 can't wait to see where the imagination of the readers take them next.
There will be masses of magical ideas, events and activities for you to get involved with, teachers and students do accept the official invitation to join the fun and start your own planning.
With new fantastic elements still to be announced, and international publishers getting involved, Harry Potter Book Night 2016 is set to be even more magical than before. I think it will be a great night for both dedicated Potterheads and new fans to adventure into the world of magic.
How to participate?
Sign up
to make sure you're one of the first to hear all the latest Harry Potter Book Night news.
National Schools Competition:
The Prizes:
Have you ever wanted to explore the magical world of the Harry Potter books with your class? You could win a 'Professor of Potter' live event for your school where the 'Professor of Potter' and his plucky assistant will bring the characters, creatures, spells and adventures from Harry Potter and the Philosopher's Stone to life in a fun and interactive event.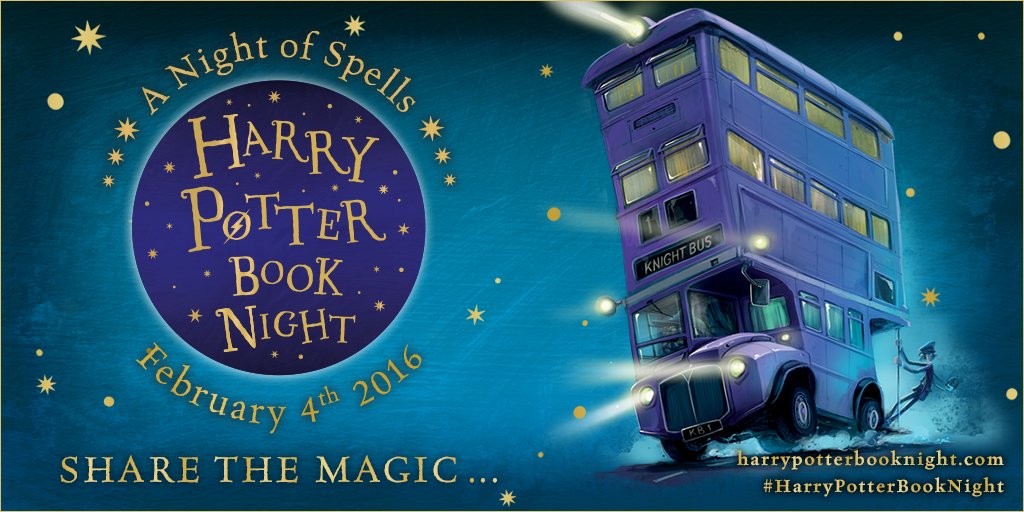 Invent your own magical spell to win:
To be in with a chance of winning the above prizes for your school, Harry Potter Book Night wants your students show what their magical spell can do!
Important information:
•
The words the students would use to cast their spell
•
Describe what happens when they cast the spell
• Draw the wand they cast the spell with
Mail your entry to:
Professor of Potter Competition
Bloomsbury Children's Marketing
Bloomsbury Publishing Plc
50 Bedford Square
London
WC1B 3DP
Teachers or students can scan school's entry and email it to
childrensmarketing@bloomsbury.com
with 'Harry Potter Book Night Schools Competition 2016' in the subject header.
Don't forget to include name, age, phone number or email address and your school's name, so we can contact you if you're a winner.
The competition will be judged by Bloomsbury,
Jonny Duddle
and Teach Primary contact.
Deadline:
Competition closes 10th February 2016. Competition open to UK schools only. Download the full terms and conditions
here
.
Lello Bookstore, Porto, Portugal
Schools of the world:
Tell your students not to be sad if they are living in the UK or Ireland. Potter's fans from all over the are participating. Look to
the map
.
Note: Each event will be reviewed before going live. You need to be 18 years or older to submit an event. But of course, teachers can do it behalf their schools.



Lello bookstore, Porto, Portugal
Livraria Lello

in

Porto

(Portugal) is considered by some as the most beautiful bookshop in the world.
The neogothic shop with swirling stairs, stained glass ceiling and intricate wood carvings is a must-see. It's also rumoured this bookshop inspired J.K. Rowling in creation of the grand staircase at Hogwarts. And Rowling confirmed it.
Lello bookstore is particating on the Harry Potter Book Night 2016. And there are other
bookstores of the world participating on this
awesome event
.
Why not preparing a visit to the bookstore near your school (search on the map) to
participate in a large event with a great number of other students of different schools. Your students will love it, for sure.
Social networks at school:
And remember to share your ideas and plans for Harry Potter Book Night on
Twitter
and
Facebook
using
#HarryPotterBookNight

Some thoughts:
Of course this is a big marketing buzz. But why can teachers explore it,
including into the curricula to promote the love of books? Of course it will enhance reading skills.
J.K. Rowling and the "Harry Potter mania" brought enormous number of new readers into Languages courses at the school, since we as educators understood the importance of reading the Harry Potter books in our lessons.
Schools in the XXI century meet
the needs of all kind of readers.
Never forget
the
students from
disadvantaged social backgrounds or having special needs
.
Integrating reading every day in the classroom is a fundamental element
for
education at all levels. Students will be better in maths or coding because they understand what they are reading to acomplish new skills on these curricula.
Rowling managed to get a large swath of young people
reading books at a time when it looked as though they weren't going to be reading anything.
Students continue to read 'compulsively'
Harry Potter books.
They became creative, reading the books in the classroom and new ating new activities can enrich your lessons.
"Of course it is happening inside your head, Harry, but why on earth should that mean that it is not real?"
J.K. Rowling

,

Harry Potter and the Deathly Hallows
Copyright © 2016G-Souto'sBlog, gsouto-digitalteacher.blogspot.com®