Olympic Games London 2012 | 3D glasses
"It is the supreme art of the teacher to awaken joy in creative expression and knowledge."
Albert Einstein
The quote identifies the values of some of my pedagogical proposals introduced to my students in school curricula and shared with you throughout the years on this blog.
I believe and practice the differentiation as a value too by focusing on individual identity of my students.
They are free to be creative by discovering 'by and themselves' with my guidance, just the sufficient to let them more comfortable in their learning.
I wrote about it on the differentt posts of my blog.
The classroom is an open window to the world. Students must feel free to talk and share ideas about all the subjects they care about in and around every curriculum.
July
rundown
shows the diversity of subjects and some values of mine and summarize the most-read topics in a collection of six posts:
"UNESCO believes that universal access to high quality education is key to the building of peace, sustainable social and economic development, and intercultural dialogue. Open Educational Resources (OER) provide a strategic opportunity to improve the quality of education as well as facilitate policy dialogue, knowledge sharing and capacity building."
The agenda was complete and full of wonderful key-speakers.
Many of the speakers highlighted the ways in which OERs are being used to innovate and improve local communities.
Over 500 delegates including representatives of Government, educators, NGOs, and universities attended the Congress.
J. Mello, used under a Creative Commons license CC-BY
"By being adaptable and accessible, OERs have the potential to solve the global education crisis and contribute to sustainable economic growth - if governments are prepared to act."
For students, OERs offer free access to some of the world's best resources, courses and even degree programs. They can also offer huge cost savings as alternatives to expensive textbooks.
As a "
pioneer
" educator in the use of OERs in curricula (Secondary Education) and an author that created some OERs for my students (in and out curriculum) to reach them the most (in and out the school) increasing their skills and competencies, motivating them to go further
"in order to be effective workers and responsible citizens in the social-knowledge society of the 21st century"
.
"This is our time... When our time came we did it right... London 2012 will see the very best of us."
Olympic Games 2012 began July 27 and will end August 12, during Summer season in Europe and some other continents.
In the United States and different countries, the students are coming back to school perhaps at the final part of the Games. They will be talking about their heros, the athletes in the different sports.
Here are couple of ideas and resources to investigate and share in your courses about London 2012.
Sports curriculum, but also Sciences, Geography, Music or English Fiction were included in the post.
Sciences:

The Olympic Flame
How do you create the perfect flame? - An interesting question to start a Science course!
Well, the Ontario Science Centre explored the technology behind the Olympic torches - past and present shown on the video below:
Credits: Ontario Science Centre
Wow! That is great! You can't miss this resource to explore the technology behind the OG flame! I am sure that your students will love it.
Enjoy and prepare your lessons! I am sure that you will have wonderful plans and your students will be learning easily the curriculum.
The competition, promoted by the City of Rome and organized by the Fondazione Mondo Digitale, is held every two years.
The Global Junior Challenge takes place within the context of Italian Digital Agenda and Europe 2020. More precisely, the aim of the Global Junior Challenge is to encourage young generations and their teachers to use of the new technologies, exchange experiences and emulate successful initiatives.
To me GJC was an important moment of my life as an educator and author of Digital Open Resources for my students, in middle and secondary education.
The first online learning experience for the students used in formal and informal learning, completing the courses as a blended learning process.
The 6th edition of the Global Junior Challenge
is an unique opportunity for teachers and students to reflect on the significance of digital literacy, whilst exposing them with to the vast range of high quality solutions proposed by other youth from around the world.
"Despite numerous improvements in women's educational and employment outcomes, many countries have not achieved gender equality in economic opportunities and outcomes."
115 years following her birth, Google was honouring the 150th birthday of the pioneering American aviator (and author) Amelia Earhart.
Seventy five years after her disappearance, t
he aviation heroine's end still remains an enigma.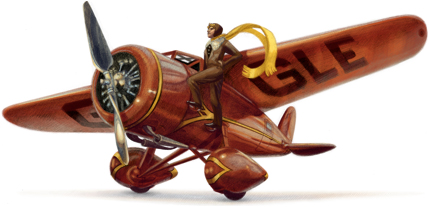 Google doodle Amelia Earhart
The doodle
beautifully designed
on Amelia Earhart's anniversary shows her climbing up her Lockheed Vega 5B monoplane, Earhart's yellow scarf fluttering in the wind.
The Google letters take the place of the original registration number of the Lockheed Vega 5b - NR-7952 - painted below the wings of the aircraft.
Amelia Mary Earhart was born on July 24th, 1897.
In 1937 she started an attempt to make a circumnavigational flight of the globe. But Earhart disappeared over the central Pacific
Ocean.
Sally Ride, who died July 24 was the first woman in space. Amelia Earhart, whose birthday was July 24 was the first woman to fly solo across the Atlantic.
"Sally Ride broke barriers with grace and professionalism – and literally changed the face of America's space program," said NASA Administrator Charles Bolden. "She will be missed, but her star will always shine brightly."
Both are important in human history because they showed other women that it could be done. In their own words, they have motivated women across the world.
I often write about gender equality. Girls are more and more proving in different situations at school and in business that they are equal to men in the intelligence and capacity.
This begins early in school where girls must be encouraged to access to science and techonoly.
The aim is to encourage creativity in the field of science and new technologies and
highlight the importance of developing innovative skills at an early age.
Festival das Artes: férias culturais? teve lugar em Coimbra (Portugal) e decorreu de 13 a 29 Julho 2012. Contou com trinta e cinco eventos, doze concertos, cinco exposições e muitos outras propostas de artes.
Este ano o tema foi "Viagens", em parte motivado pelo facto de se cumprirem 440 anos sobre a edição de "Os Lusíadas" de Luís Vaz de Camões, o poema épico que fala das viagens dos Portugueses na História e em concreto até à Índia.
Os eventos estavam distribuídos por cinco ciclos: Música, Cinema, Artes Plásticas, Conferências, Artes de Palco, Gastronomia e Serviço Educativo
.
Nada melhor do que ter rumado até Coimbra e ter inscrito os jovens e os menos jovens nas várias actividades que o Serviço Educativo propôs.
Serviço Educativo | Festival de Artes
Propostas diversificadas ligadas ao teatro, literatura, escrita criativa, ciência viva, exposições, e roteiros de sabores.
Sabe como é interessante e enriquecedor orientar os jovens para actividades culturais em tempo de férias escolares.
Festival de Artes 2012 é uma iniciativa no âmbito da actividade cultural que procura dar oportunidade de expressão, desenvolver o sentido crítico, e o gosto pelas artes.
Através deste projecto intergeracional, é possível identificar e promover gostos e experiências que levam ao público várias expressões estéticas e lúdicas.
For 2012, the theme of this year's Arts Festival was "Travels". According to Festival Chairman José Miguel Judice, the theme, in part, was motivated by the 440-year-old great literary work of Luís Camões "Os Lusíadas".
Quinta das Lágrimas A
mphitheater
Music, Cinema, Stage, Gastronomy, Art, Conferences, Education in the beautiful Quinta das Lágrimas in Coimbra (Portugal)
Education cycle offered several activities and workshops for different generations: science, storytelling, theatre, gastronomy, exhibitions.
If you are living or were visiting Portugal, I am sure you didn't miss this wonderful festival. You and your kids could enjoy and learn a lot about Portuguese culture.
The project aimed to bring together different generations at the "European Year for Active Ageing and Solidarity between Generations 2012".
During July and Augst, I am writing about some subjects that might interest you for the next school season.
Well, we know that a teacher is never on holiday time, completely. After some days off on the beach or travelling a little, a teacher is always thinking about some new ideas, here and there, to surprise the students next school season.
Here Literature and fiction. Let me introduce Neil Gaiman by himself!
Bestselling author Neil Gaiman has long been one of the top writers in comics, and also writes books for readers of all ages.
He is listed in the
Dictionary of Literary Biography
as one of the top ten living post-modern writers, and is a prolific creator of works of prose, poetry, film, journalism, comics, song lyrics, and drama.
First time I talked about Gaiman to my students, it was about Coraline.
The tale of the lonely girl who discovers an alternate world where her 'other mother and father' live has been turned into a graphic novel and a film.
Coraline's 10th Anniversary
Now it's Coraline's Tenth Anniversary (here's the UK's 10th Anniversary edition).
"I don't want whatever I want. Nobody does. Not really. What kind of fun would it be if I just got everything I ever wanted just like that, and it didn't mean anything? What then?"
Celebrating ten years of Neil Gaiman's first modern classic for young readers, this must-have anniversary edition is enriched with a brand-new foreword from the author, a reader's guide, and more.
I discovered on the web the
nteresting video below that we could share with our students in Secondary education or Further education.
At the University of the Arts in Philadelphia, author and comic book writer
Neil Gaiman
shared some "secret freelancer knowledge" that all kinds of writers, editors and freelance workers can use. And of course, young people beginning a career. Watch the speech below:
Wow! Such an inspirational speech!

If you have some creative students - and we all know that we have a lot of creative young people in our schools - you need to share this utterly inspirational and captivating speech.
"You can be as creative as you need to be to get your

work seen: Youtube or the web and

what comes up after Youtube and the web

can give you more people watching than television did.
(...)
Be wise because the world needs more wisdom and if you can
not be wise pretend to be someone who is wise and just
behave as they would.
And now go and make interesting mistakes, make amazing

mistakes, make glorious and fantastic mistakes,

break rules live the world more interesting because you're being here.
I think, most of all, as an individual researcher in Education that Millenials young people brought a fantastic new vision to schools and Education (all levels now) with their visual spatial skills - screen generation - non verbal intelligence, multi-tasking attitude into the classroom.
I really hope that you will enjoy every pedagogical proposal published in July or will discover some new pedagogical ideas to introduce in your lessons.
I thank you very much to all the colleagues that kindly read my blog. And you come for around the world.
copyright © 2012G-Souto'sBlog, gsouto-digitalteacher.blogspot.com