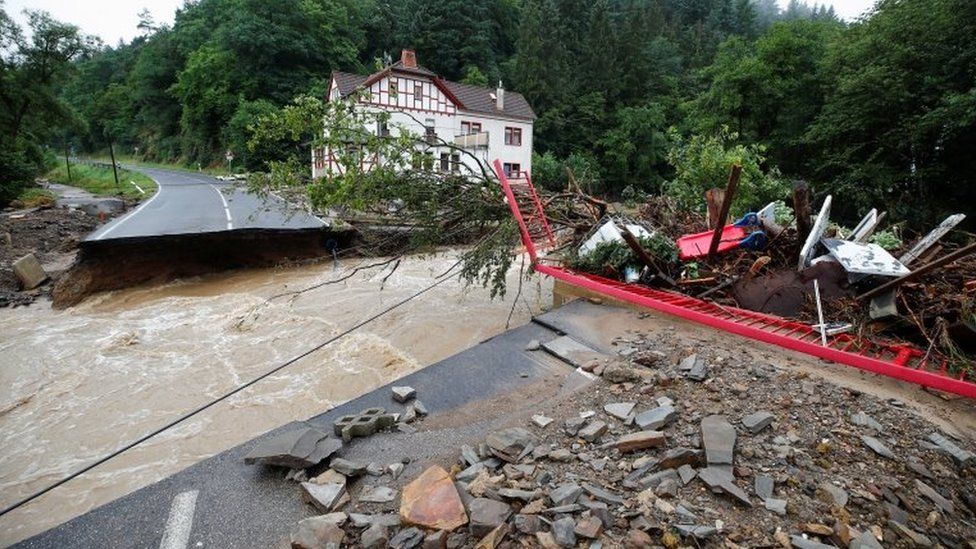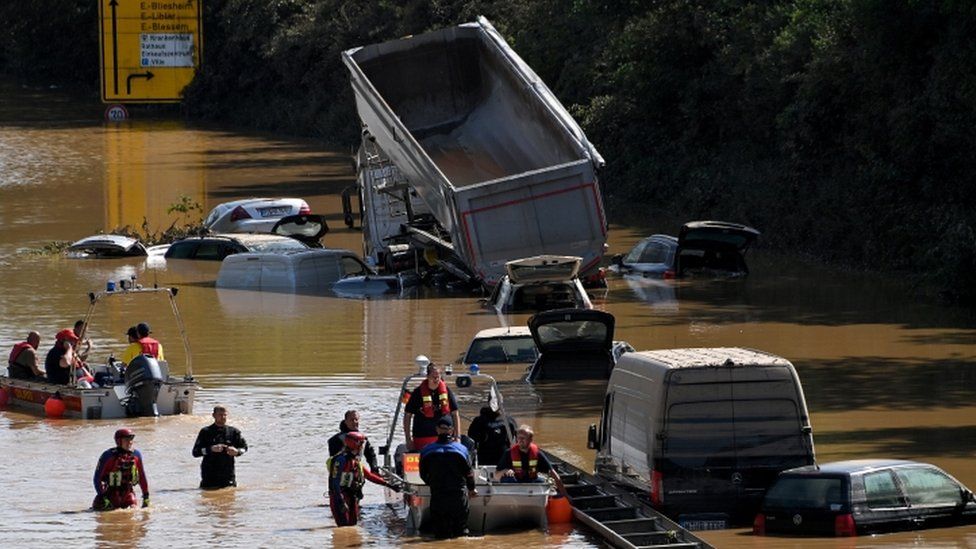 Western European countries including Belgium, Germany, Luxembourg and the Netherlands had received up to two months' rain in two days from 14 to 15 July, on ground that was "already near saturation".
Photos taken at the scene of some of the worst water surges and landslides show huge, gaping holes where earth and buildings had stood until mid-week, after media reports pointed to well over 190 confirmed fatalities in Germany and Belgium on Friday morning, with an unknown number still missing across vast areas.
via Premier Ministre de Belgique
Journée de deuil en Belgique
La Belgique a observé hier le 20 juillet une journée de deuil national, à la suite des intempéries et inondations dévastatrices qui ont frappé le pays la semaine dernière et qui ont coûté la vie à 31 personnes jusqu'à présent, selon le dernier bilan officiel.
On July 20, Belgium observed a National Day of Mourning for those who lost their lives or were affected by the recent severe weather conditions in our country.
And this week in China! Twelve people have died after record-breaking rainfall flooded underground railway tunnels in China, leaving passengers trapped in rising waters.
Climate change : Act Now!
"We need to step up climate action, we need to step up the level of ambition; we're not doing nearly enough to stay within the targets of the Paris Agreement(on Climate Change) and keep temperatures below two degrees Celsius, even 1.5C, by the end of this century."
António Guterres, UN secretary-general
Education:
Every one of us can help limit global warming and take care of our planet. By changing our habits and making choices that have less harmful effects on the environment, we can tackle the climate emergency and build a more sustainable world.
Our lifestyles have a profound impact on our planet. Our choices matter. Behavioral changes, like replacing car trips with public transport, wasting less food, or foregoing a long-haul flight, can reduce our carbon footprint.
Get started with these ten simple actions.
Invite your students to download the action guide. And for more actions, to dowload the app
Oops! I forgot to write about the posts of May. Let's do it ! The world continues to be affected by severe pandemic restrictions. Only UK opened.
In so many countries schools are always closed or reopen and reclosed schools. Millions of students don't have access to in-person lessons.
In Portugal, in-person classes with hybrid teaching finished lin June. Only Secondary schools and Universities continue for the exams.
Here are the most popular posts of May:
Science & Music at school ? ESA astronaut Thomas Pesquet & Coldplay music in microgravity !
House of Dragon prequel ? For sure ! Here we are again !
Science : Super Blood Moon & Total Lunar Eclipse ? Wow ! Let's enjoy the cosmic show !
Schools ! Culture Matters : Let's talk about Museums !
There are strict m
easures to deal with the new wave coronavirus across European countries and other countries all around the world. Not in UK (?)
M
any involve the reintroduction of restrictions that had been eased after initial lockdowns.
Copyright © 2021G-Souto'sBlog, gsouto-digitalteacher.blogspot.com®